Ray Scott - Wrong Songs: Musings From The Shallow End
Jethropolitan
***1/2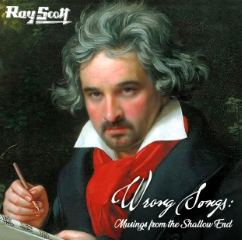 They don't make them like Ray Scott anymore—the sponge-like country singer imparts all he's absorbed, beckoning the listener closer to sit cross-legged at his feet and listen to his outrageous ramblings, and to find crumbs of similarities to their own experiences that in retrospect they can now laugh out loud about. Comedy that both ruffles feathers and leads to belly-aching guffaws, has been absent from country music for what seems like decades. I'm old enough to recall first-hand the often-hilarious music of the long-forgotten Ben Colder, Don Bowman, Simon Crum and Shel Silverstein. With this irreverent set of country songs, Ray has pushed the boat way out, far beyond the comfort zone of many, to deliver an album that you'll either love or just plain hate. There are no half measures here. The world over right now, there's pent-up desire to let it all go and just enjoy life. But a heaviness looms across the whole human experience. From the aftermath of the pandemic to the fear of nuclear annihilation, the plight of refugees to the eroding or nonexistent human rights, there's not much to rejoice. It's hard to dance, yet alone let your hair down and have a bloody good laugh. It would be nearly impossible for the listener not to feel anything from WRONG SONGS, a record that bends, grooves and struts in glorious ways that make one yearn for the good ol' days. You know, before all that political correctness dented our inhibitions.
If you like your country music down and dirty and a little risqué, saddle up and take a ride with Ray Scott and his rebellious approach to country music. His songs offer a completely unique window on the world. Chronicling—with empathy, caustic wit, and humour—what happens when men (and women) pour gasoline onto their own bad decisions. Uniting it all is Ray's sharp ear for melody and the way his crack team of session players restlessly deliver an increasingly widened batch of this irreverent country music that throws sand in the gears of the old guard's carousel as they trespass through honky-tonk and trad country two-stepper arrangements with lashings of pedal steel and fiddle very much to the fore.
The characters that populate his lyrics are hardworking, full of longing for something more, and sometimes maybe just figments of his wild and weird imagination.
The opening Between Us is a bittersweet and super catchy song filled with heartfelt emotion and comically exaggerated sentiment. One that you can swirl around a hardwood floor, as the song goes down easy, though the coarse lyrics might not go down quite so easily with some! Reminiscent of Johnny Cash's A Boy Named Sue, Robertson County Lock-up Blues, with a nod to the Tennessee Three in its rhythmic approach, will have you slapping your knee and spinning around the kitchen table. A humorous prison yarn, the song shows an artist at the peak of his inventive lyricism. Everybody Ends Up Ugly, has the stamp of Silverstein running all the way through it, with echoes of Bobby Bare's The Winner, in Ray's vocal intonation. There's sarcasm in In Pictures, a minimally detailed yet fully rendered character sketch of an internet date who doesn't exactly live up to her facebook image. Fluid, thoughtful and expansive, The Love Song, deals with the eternal triangle so prevalent in country music, but in this case, it's the passing on of VD that doesn't go down too well. Ray Scott's deftness at seamlessly weaving offensive and saucy words into his riveting stories shines the spotlight on his overalls-wearing, good-ol'-boy persona. He layers lyrics that are at turns angry, funny, horny, relatable, or all of the above at once. True rebel country, in other words. 
March 2023