Peach & Quiet - Beautiful Thing
P&QCD002 
****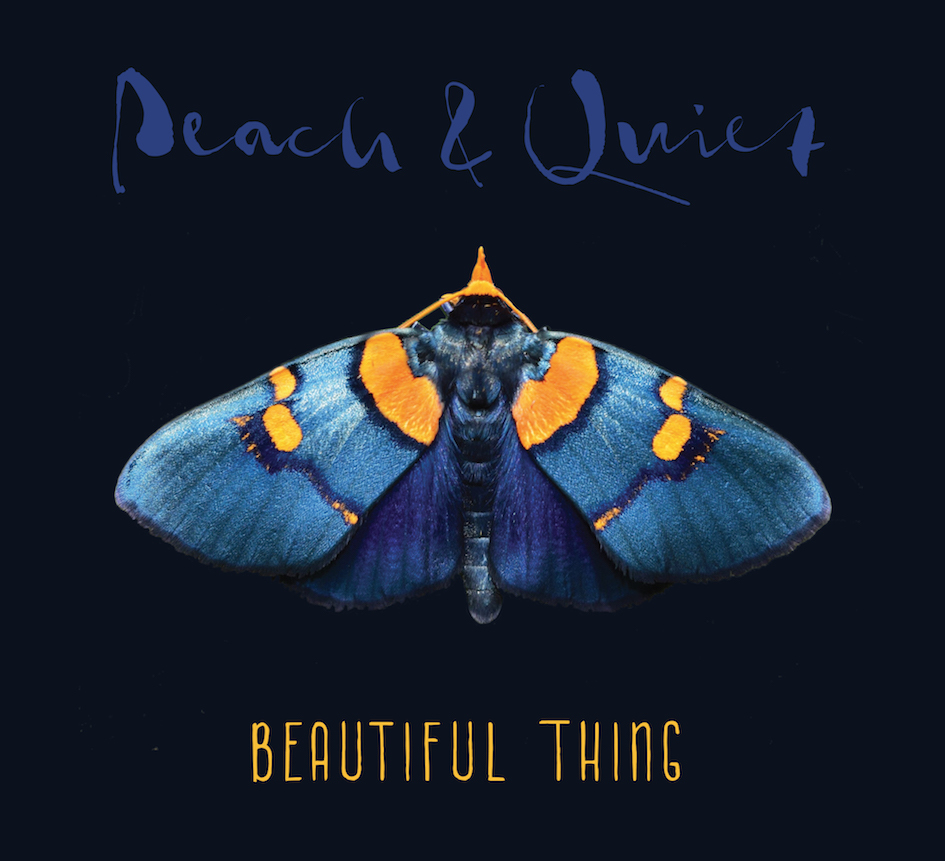 BEAUTIFUL THING is the impressive sophomore effort of Canadian couple Heather Read and Jonny Miller, known professionally as Peach & Quiet. They 
are well-matched vocally offering textural harmonies, a blend of Jonny's gritty tones and Heather's more delicate alto delivery. They effectively straddle the line between being a uniquely sounding outfit yet feeling as comfortable as an old friend from the first moment you hear them.  The album is radiant with the straightforward complexity of its execution and thereby works a magic that is equal parts soothing and—if gently—jolting, which is to say there's something fierce in its apparent quietude. It is not as much an album as it is a world, one that doesn't reveal itself in haste but rather unfolds over time and through multitudinous layers. A powerful collection of songs with a sharp tongue and among the beauty that shines through is plenty of unrest, unease and disquiet. It makes for compelling and original music that will potentially appeal to a diverse audience, tunes that range from buoyant to dreamy, ideal for the early days of autumn.      
Modern folkies tempered by modern times and life, they amp it up beyond granola music and move it into stuff you can feel. The opening title tune combines a minimal and beautiful folk-rock arrangement with Steve Dawson's inventive guitar lines gurgling to awe-inspiring effect. It's a marriage pairing Poco-esque sentiments with the melodic sensibilities of early Eagles or Lewis & Clarke or the Burritos. Oklahoma Or Arkansas has a simple palette—acoustic guitar at the heart of everything, Jonny's voice weaving around it, melodic electric guitar as embellishment. A travelling song that unwinds into a wandering yarn of a love embrace to a loved one. Jonny also handles the lead vocal on When You're Gone, as they return to the basics: a guitar, a sturdy heartbreak song, and his singularly plaintive voice. 
Heather takes the honours on the self-penned Pockets Are Empty, as she sings of a lover from whom she is separated, maybe for good. She explores the full spectrum of human emotion, with a lyrical rawness that is both disarming and life-affirming. Her delivery is cold as ice while the music swirls around her, illustrating in no uncertain terms who's in control. She takes a gentler approach with Song From A Tree. Haunting and bittersweet, breathtakingly tangled with tangible emotion and echoes of the past. Her vocal is enchanting and she exudes a sense of hushed calm as she meditates on what it means to be present in the moment while also dreaming of new places. This Time is a soulful and ethereal folk song that is deliciously relatable. She digs deep into our all-too-human ability to make things harder than they need to be—and how rarely this serves us.  Dreamy and frequently spellbinding, her vocal is up front in the mix, fragile but forceful, delicate but precise.   
She shares the microphone with Jonny on the erstwhile That Is For Sure, on which they alternate lines before coming together for the closing chorus. Whether it's the steady stride found in Horse And Saddle, the ragged repast of Calgary Skyline, or the beguiling ballad, Just Before Dawn, what really stands out, overall, is the depth and wholeness of this record's sound. 
 January 2023