Over The Moon - Chinook Waltz
Borealis Records BCD275
****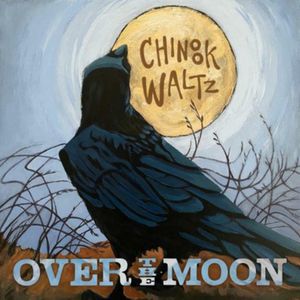 Canadian duo Over The Moon, comprising husband-and-wife couple Craig Bignell and Suzanne Levesque, have a unique, harmonious charm on their second album. It becomes very clear at the outset that the pair have no interest in pushing the parameters. Their homespun harmonies and breezy homilies make it clear that they're content to confine themselves to rootsy traditional trappings and recreating a sound of a distinctly vintage variety. As a result, they convey an honesty and integrity that meshes well with their gentle yet jubilant sound. The arrangements on this home-recorded album are so assured and in sync as to offer the impression that this is a large studio offering. Both are strong vocalists and instrumentalists, with assistance from a forceful ensemble of vastly experienced pickers. To their credit, the duo makes no distinction between the classic and modern, applying the sound with a clear consistency that remains in effect overall. Don't be deceived by the apparent simplicity. Though it can be tagged a traditional-sounding project, a simple label doesn't do justice to the subtleties of CHINOOK WALTZ. Indeed, these duets and ballads make an indelible impression.
The couple live in the rugged foothills of Alberta's Rocky Mountains surrounded by a beautiful and captivating landscape on their own Chinook Ranch. That landscape infiltrates each and every musical note and lyrical word that is to be heard on this collection of carefully chosen covers and self-penned songs. Opening track Lonesome Bluebird sets the tone with its casual sway of fiddle, the pluck of banjo, mandolin and high-string guitar. Suzanne takes the lead on a song about being brave enough to fly, so as to experience freedom and the world at large. It is an absolute gem and a fresh breath of country air. Living next door to Canadian legend Ian Tyson, makes it almost inevitable that they would love his music, and it doesn't come much better than the perennial favourite Someday Soon. The duo's rendition is impassioned featuring elegant vocals, some equally lovely pedal steel courtesy of Bruce Hoffman and subtle accordion from Denis Keldie. They follow that with a revival of Karl & Harty's exquisite Kentucky. First made popular in the 1930s, this plaintive song about missing the homeplace was revived by the Everly Brothers in 1958 and Gail Davies in 1982. The vocals of Craig and Suzanne wash over the listener, purifying with the clarity of their harmonies as the acoustic guitar, Dobro, harmonica and piano flow smoothly. This is music as pure and crisp as a still, chilly pond.
They maintain the revival of golden oldies with the Ian & Sylvia signature chestnut, Darcy Farrow, recasting it with a surprisingly new and unexpected interpretation. Bruce Hoffman's fiddle gives the song an eerie, haunting feel, the pair's softly sung vocal full of emotion in this sad tale of an ill-fated young couple. A most unusual choice is They Can't Black Out The Moon, a song written by British dance-band leader Harry Roy in the early days of the Second World War.  Given a swinging, jingle-jangle western arrangement just right for a cowboy dance night, you'll be hypnotised and tapping your foot along in no time to this delightful romantic tune about love in the blackout days of the War. They keep to the cowboy theme with their self-penned John Ware, the story of a real-life slave from the Carolinas who became a cowboy hero in Alberta. Powered by the sound of a barroom country band, they venture into shades of classic country with pedal steel, fiddle, guitars and accordion as the tale unfurls. The title song introduces the pair's sweeping central themes of life on their ranch in the foothills within the confines of a cozy waltz. They connect their instrumental acumen with lyrics that veer from panoramic to devotion, resulting in a sound that's stirred with relevance, reflection, and absolute intent. The track provides an enchanting close to a record full of enchanting performances and songcraft.
November 2021