Thirty Tigers
****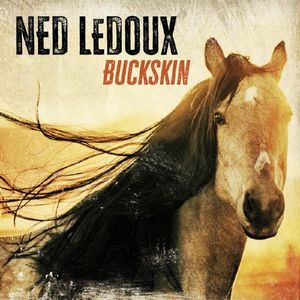 The past few years have seen a boom for cowboys and outlaws, in country music and in the wider cultural consciousness. If this is a sign the backlash is kicking in, bring it on. Ned LeDoux's third album establishes him firmly as an Americana western singer to be reckoned with. Without losing that cowboy-rock trademark, BUCKSKIN has an air of ease about its production and is an entertaining spin through town for new traditionalists, as this cowboy's nostalgia only seems to go back as far as his late father Chris LeDoux and Michael Martin Murphey, but that's ok, isn't it? The rural cowboy thing you hear in Ned's music comes from his love for the freedom of the Wyoming landscape not to mention the time he has spent in the saddle ropin' and branding steers. Country-rock, swing tunes, western yarns, are all on offer as a spirit of celebration radiates through his voice. It all fits so well together, complementary moments are sprinkled throughout; a vintage warm sound, hooks that catch the ear; a turn of phrase … they seem small at first, but by the time you get to the end, they are the reason you press play again—the hallmark of a genuine storyteller. It's real country, like the kind commenters on YouTube keep saying they want to hear, betcha everyone from Ian Tyson to Garth Brooks could/would put a stamp of approval on this disc.
Ned's best songs boast an almost visceral immediacy, as if created on the spot to capture memorable moments. Opening track, The Mountain, is both earnest and engaging, a prime example of a glorious country-rock fusion. While on the surface there is a simplicity to the song, which keeps it memorable, there's so much more going on. Full of optimism and hope, it offers just the right message for these times. The result is an effort that may not move mountains, as the title implies, but regardless, still reflects an obvious upward climb with its comforting lyrics. Fueled by obsessive desire the twangy free-wheeling Open Road chronicles the pull of the highway with an exuberant good-timey vibe. However, good times still need a purpose, and this is an album about community: family, friends, connections—and a bountiful life. This is most apparent on Only Need One. Written by Nashville tunesmiths Rodney Clawson, Jimmy Robbins and Andy Albert, this extolls the virtues and contentment of a good and fulfilling life. It also has a bit of an older country and western feel, somewhat reminiscent of Moe Bandy.
That blend is at the heart of my passion for Ned LeDoux. You can hear it in the chiming sounds of the steel guitar, the thump of the drums and how it extends and enhances the sound of the twanging guitars in Rodeo Dreams, the airiness to Cards In San Antonio and the enthralling western swing rhythms of This Ain't My First Rodeo. The album's emotional height, Cowboy Is His Name, finds Ned at his most compelling, as he paints a vivid portrait of a hard-working rancher who lives life on his own terms, with colourful imagery that keeps you hooked in. There's a kind of poetic foreboding and romantic yearning driving the ghosts of the people and places that used to populate the west in Buckskin, a moving narration about a rodeo rider. As with his previous albums, Ned features one of his late father's songs. This time it's He Rides Wild Horses, the title song from Chris LeDoux's 1981 album. It's a classic cowboy song and it makes one wonder why Chris remained under the radar for so many years.
This album is punchy and adventurous, full of genuine grit. Ned Le Doux's songwriting is playful, wry, and tough. It's all shot through with an easygoing charm, a songwriter who can politely ask you to buzz off in a line and then offer advice you didn't even know you needed. Full of landscapes, cowboys, women and aspirations that have been long since left behind, but not forgotten, by an artist who continues to create a unique style of song best described as Americana cowboy-rock.
March 2022