Michael Shaw - He Rode On
Self-released
****1/2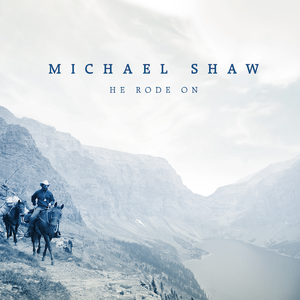 It's safe to say that Michael Shaw has one of the wildest life stories of any rising artist at the moment and there is little doubt that he's born for a life in music. Raised in the Appalachian foothills, as a young man he upped sticks and moved to the wilds of Montana, where he lived a pretty solitary life as a horseman and wilderness ranger. He often survived harsh winters in a one-room shack, lacking both indoor plumbing and electricity. To while away the lonesome and endless days and nights he would spend time playing his trusty guitar and penning songs. A staggering debut of depth and substance, he has skilfully nurtured a reputation for ruminative excursions through rugged western-tinged tundra—open-ended soundscapes further explored on this superb slice of genuine Americana. He lets his blue wanderlust leach out for a raucous, rowdy, soul-drenched celebration of good times, bad women, and temptations that both overcome and are conquered. These songs stretch out and travel their own highways and byways with an authentic cowboy country sound that evokes the jubilation and joy of Montana's majestic mountains, and the feeling of clarity and contentment that long lured folks to western realms. Press play, and visions of smoking indoors with some whiskey on the rocks come to mind. It's the kind of music that travels through time while taking from the era where it was born and turning it into something fresh.
Produced by Canadian Grant Siemens, Corb Lund's long-time guitarist, and recorded in his Winnipeg studio, there's real skill, spirit and attitude at work here and I'm pretty sure Hank done it this way. Siemens has pulled together a team of top-of-the-range players including Robby Turner (pedal steel), John McTigue III (drums), Bernie Thiessen (bass), Jeremy Penner (fiddle), Marc Arnold (piano, organ) with Siemens providing the electrifying lead guitar work, giving the songs a spacious urgency with the drive of a Berry rocker and the expanse of a Robbins' western ballad. The rambunctious opener, Bad Honky Tonker, is the perfect antidote to all those Stetson-wearing, pseudo country singers currently killing Music Row. This is rebellious rock & roll with a country twang and, unexpectedly, overtones of punk energy buoyed up by frenetic fiddling and a heavy backbeat with lyrics to die for. There's no doubt that parties everywhere across the good ol' USA, whether they're held in parking lots, pastures, backyards or lake shores, would be wise to have this one permanently on their playlists.
Sounding a little like Jerry Lee meets 1980s Steve Earle, Cowboy Boots And A Little Country Dress, based loosely on a wild weekend in Elko, even features Michael doing a little yodelling to add authenticity to this knotty, pummeling rockin' country tune that sounds vintage but feels current. With a soulful, yet plainspoken, mountain voice and a knack for telling a fine story in a song, some of his best creations are slice-of-life yarns such as Light Of The Moon. Set in his native eastern Kentucky it perfectly captures the life of an old moonshiner way back in the hollers. It's a whole lot more grungy, bluesy, and rock and roll than expected, with Marc Arnold's organ swirling around and Andrina Turrence's soulful harmonies adding to the compelling real life story of the late Popcorn Sutton that will reach out and grab you. This neatly segues into He Rode On, an epic piece of writing on how we all believe that we're invincible … only to discover the end of the road slowly becomes closer and closer. This is another personal song, as it's dedicated to the late Colin McKnight, his long-time friend and band mate. Billy is a pure country tune with exquisite vocals that goes from rock steady to rock heavy, with plenty of pedal steel and fiddle and drumbeats that'll become an easy fan favourite. Stick A Fork In It is a great honky-tonk rave-up about a no-good woman who won't stay home. Siemens dials up the Tele and Turner the pedal steel on this undeniable barroom banger. Michael James'
distinct brand of country combines the genre's vivid storytelling with ear-grabbing rock riffs and unmistakable soul for a sparking connection with those who like their country with a bit of bite to it. 
June 2022