Mel Wallace - Chasing Zero
Self-released
****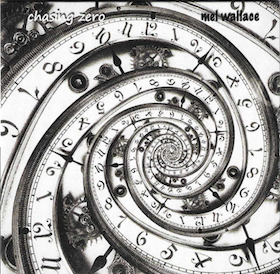 Mel Wallace is a Rochester-born singer, guitarist and vocalist who has enjoyed a lengthy music career, mainly on the sidelines. He has been a post-chart success member of Edison Lighthouse and the Sweet. He also appeared on several of the Wembley Country Music Festivals in the 1970s and 1980s as a member of the bands that backed up such American stars as Don Everly, Jerry Lee Lewis, Terry McMillan and others. In addition, he has toured extensively across Europe appearing with Zydeco King Rockin' Sidney, including playing on his LIVE WITH THE BLUES album. In 1973 Mel was signed to EMI/Bullet and tasted success with Summer Girls, a song co-written by Marty Wilde and Pete Shelley, that gained extensive play on BBC Radio 1 and was Record of the Week on the Jimmy Young Show. The single reached No. 51 on the UK charts and No. 1 in Italy. The self-produced CHASING ZERO, his debut album, offers up ten self-penned songs that manage the tricky feat of being elegant in construct without sounding cold or distant.
His songs are intricate and complex but hit that sweet spot all quality addictive pop does. Many of the songs have that classic sound that makes you rewind each track, thinking: 'Where have I heard that before? Is that some obscure B-side from the 1960s?' Almost all of these hooked-filled songs run in radio-ready three-to-four-minute range, if only that kind of radio still existed today. This impeccable collection is a sparkling cruise to the pirate radio ships of the mid-1960s, riding on the buoyant, bright legacy of pop's admirals like Goffin-King, Mann-Weill and Greenwich-Barry. With unfussy production, tight melodies, and precise vocal harmonies, it fits together as easily as a toddler's jigsaw puzzle. The next best thing is to just play CHASING ZERO from start to finish, imagining you're tuned into circa 1967 radio in an alternate universe, where Mel Wallace is one of the chart champs. In a world of stereotype and digitalised music that is not even created with real instruments, it is so relieving to have Mel and his studios pals drawing from the sunshiny daydreams of the Monkees, the Association and the Tremeloes, creating sounds like a weird party happening out of time. A vibrant, pop treat that will have you feeling fresh, young and fancy-free!
The ingenious arrangements, stirred slightly with occasional additives of brass, slide guitar and keyboards, provide the music with supple twists and turns, expanding the stylistic terrain and adding a decided depth to the effort overall. To Be Here starts the listen with a spirited variation of California soft-rock—
both anachronistic and brand new—with a decidedly indie-ish vibe pushing it somewhere that more straightforward pop refuses to go. Both his low-cast ballads (Love Forever, Right Thing To Do) as well as his decidedly up-tempo offerings (Liberty, Let It Roll) convey a distinctive charm and infectious enthusiasm that clearly enhances his winning ways. For Now A Tear features twinkly, sweet vocals, the dejected curl in Mel's intonation reminiscent of Peter Noone. He elevates It's Your Time, a narrative about a doomed relationship, with an intensity that ramps up to a cathartic finish of ringing, bell-like guitars and emotion-packed vocal harmonies courtesy of Jo McCafferty and Stevie Gee.
The funky Distance Is Calling rides along pulsing rhythm guitars and insistent percussion, a blend of psychedelic and electric folk while keeping the compass aligned with the magnetic, hypnotic north. This contrasts nicely with No Promises, in which Mel's perky vocal, deceptively simple lyrics and infectious la-la-la chorus creates a delightful 1960s' pop revival sensibility. Quite simply, this is an entertaining record, and a must for anyone who misses new songs invoking peak era 1960s pop music.
January 2022