Matt Patershuk - An Honest Effort
Black Hen Music BHCD0094
****1/2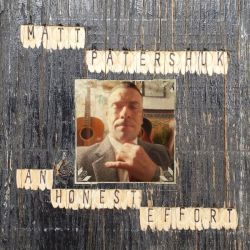 Matt Patershuk's AN HONEST EFFORT is a pleasure, a relief and a blessing in an age in which songwriting largely consists of consortiums of people penning computer-assisted hits. He doesn't play these silly games. His lyrics rip and roar, kiss and purr as he conjures wonderfully layered and delicate songs that sew captivating storytelling to instrumental perfection. A wonderful, deeply thought out, rich and engaging collection that manages to sound completely original within the parameters of its musical roots, every song on the album glitters like a multi-faceted gem, cut by a master jeweler. It's the sound of someone who patiently honed his craft as though he was whittling a stick, quietly working until he was satisfied with its shape. In a fast-moving world where everything tends to be shunted into black-and-white, emotionless talking points and political fodder, the very real, very human element is what carries this compelling work of musical artistry.
Matt's easy-on-the-ear earthy vocals are nicely jelled with rootsy acoustic sounds provided by Steve Dawson (who doubled as co-producer) on guitar, pedal steel and Weissenborn, drummer Gary Craig, Jeremy Holmes on bass and mandolin, multi-instrumentalist Fred Kaplin, who contributes inventive fiddle, banjo, harmonica and ukulele and Keri Latimer, who provides exquisite vocal support. The Canadian's gift for portraiture is on show with Johanna, an ode to a lost woman with a lengthy history. While the narrator acknowledges Johanna's complexity, he focuses on the simple mechanics of her need to break free. There's a beautiful and crushing collectivism in this tune's loneliness; on occasion we all pine for the ability to be free of life's many chains. Sunny is another with more problems than she can easily handle. With stunning insight and honesty, he speaks upon the disillusion of dreams, the realisation of new ones, the reality of the pitfalls of the happy-ever-after romance fantasy and does so with cutting clarity and poetic facility. A melody that is bittersweet, capturing the feeling of emerging from a fog, of needing to lose something to gain something else, the despairing song deals with the tragic end of what should have been an enduring relationship.
A longer-lasting partnership is the theme to the rhythmic Turn the Radio On. Steve's quick-picking guitar twang and Matt's loose, relaxed vocals immediately evoke the feeling of the open road. It's a song that is evocative of the open spaces of Canada and follows in the exalted steps of the likes of Gordon Lightfoot and Ian Tyson. It's a delightful romantic song full of images that we can all relate to. He also ventures into equine relationships with the lengthy Jupiter The Flying Horse, inspired by an old circus poster. Cleverly he draws us in with the tale of a stallion who falls for a mare of a lower station, that is convincingly related with Steve's Weissenborn creating the ideal instrumental foil. A second equine song is Clever Hans, the tale of a real-life horse of the early 20th century that could apparently perform intricate arithmetical and intellectual tricks. Showcasing his twang-country sound, from the moment the song begins, the listeners are immediately drawn into his deep and country rooted vocal that proves to be instantly addictive. There's also a hint of mischief in his writing, as with Shane MacGowan, a tongue-in-cheek yarn about the former Pogues frontman's new dentures. The haunting Stay With Me has an ethereal air that Keri Latimer creates with her delicate vocal that perfectly counters his earthy tones on this poignant song of abiding love. The 2nd Law of Thermodynamics washes over the listener like a cleansing wave, carrying you along into valleys of human emotion, searching every corner of the human heart, peering into the shadows for glimpses of light. Matt Patershuk has cemented his place among the best singer-songwriters with his recent work … if you haven't discovered him by now, you need to, as he's one of the finest songwriters out there.
December 2021