Mary Gauthier - Dark Enough To See The Stars
Thirty Tigers
****1/2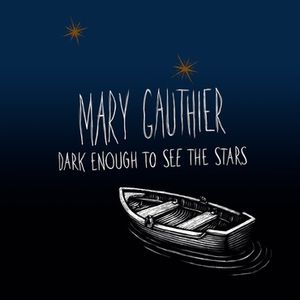 The cascading rhythms and flowing melodies of Mary Gauthier's new album will wash over the listener, basking them in sparkling splendour, so that those who sample it will emerge from the experience cleansed of illusions about themselves and the world in general. Pursuing a shared humanity isn't easy, but it points Mary closer and closer to joy and happiness. While it isn't the kind of album one might describe as bold or breathtaking, it shows Mary's songwriting in all its bodily, self-sabotaging glory. It is unabashed vulnerability, real and raw, and forces us to look at it head-on. Each track is a snapshot torn from or inspired by real life scenarios of struggle, hope, defiance, and dreams fulfilled, sounding more like confessional poetry; plainspoken, clear-eyed songs full of homespun, autobiographical lyrics. Often backed by a simple piano or organ line, the melodies in this album tell a gentle story, creating—as the album's title suggests— a kind of hideout from the outside world, which opens up brightly for total clarity.
One of the most uncompromising songwriters, Mary Gauthier is not exactly renowned for romantic balladry, yet the first three tracks are delicate and somewhat poignant love odes. Fall Apart World is a quivering rumination built from acoustic meanderings leading into atmospheric organ, the combination inviting us into her world to share her pain and eventual joy as she embraces a fulfilling relationship. Mary's partner, Jaimee Harris, who sings harmony throughout the album, co-wrote Amsterdam. Mary creates an openness with Danny Mitchell's vibrant piano for this sunny and easy-going paean to one of her favourite cities. With the gospel tinged Thank God For You, she faces the wrath of addiction, drinking to numb the pain of human existence as she cuts to her own core with some of her most honest and personal lyrics. Danny Mitchell's evocative keyboards help bring alive the rich images of emerging from the darkness into the light with renewed energy and optimism.  
Living as a singing troubadour for the past twenty-odd years, Mary is something of a road warrior and she brings her highway experiences to life in a trio of songs. A haunting harmonica opens Truckers And Troubadours, a co-write with Darden Smith. A mournful, late-night and slightly dark appraisal of the life on the road for those committed to get to yet another town. There's a similar downside to Think About, a song that revolves around those lonesome highways without the one you need so desperately by your side. Matching a warmly ramshackle melody with cinematic lyricism, The Meadow is a delightful reminisce of a long-lost love tied in with a travelogue enhanced by Fats Kaplin's eerie steel guitar wafting away as she travels the interstates of time.
Mary remembers some of those close friends and musical associates who have sadly passed away in recent years most notably John Prine, David Olney and Nanci Griffith with the total disbelief we've all felt in How Could You be Gone and the prayer-like 'Til I See You Again. She shares memories of her close friend Betty in the heartbreaking Where Are You Now, while clinging to fragments of the fond times they shared with beautiful words that really did make my heart ache. The title song, a co-write with Beth Nielsen Chapman is a sublime aural delight. A self-confidence lightens this bright light in a dark world. A song of hope, self-love, and acceptance, it's an emotional plea for empathy from someone who's weathered more than a few runs of bad luck and heartbreak herself.
Mary Gauthier is one of those artists that people gravitate to. She is authentic and true which remains admirable in today's world of trends and gimmicks. A haunting storyteller, she is far more than just an emotional voice.  Sit at her feet and listen.
June 2022