Luke LeBlanc - Only Human
145 Entertainment
****1/2
A welcome breath of fresh air from a young man still only in his twenties. You won't be disappointed by Luke LeBlanc's third full-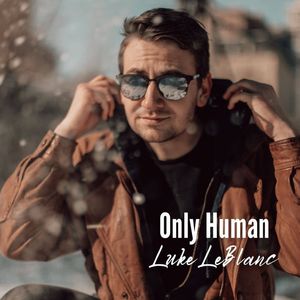 length album. The Minneapolis native possesses a warm expressive vocal style, full of emotion and believability ensuring the listener feels sympathy for the characters in these beautifully written and often thought-provoking stories. Here is an album that's singularly spectacular simply by virtue of its distinctive diversity, not to mention the melodies that sound simultaneously fresh and familiar and his clever wit and keen intelligence that's all very much his own. A good eye for imagery, a gentle human touch, a wry sense of humour, a whole lot of integrity, a warm, comforting voice, this whole album has plenty of drive and depth, thanks to its tastefully layered production, the backing band Luke has assembled, and his prodigious lyrical gifts.
Recorded in Cleveland by producer Erik Koskinen, who also provides electric guitar, bass and pedal steel, with Luke accompanying his own smooth vocals with guitar, harmonica, piano and organ and additional support from John Cleve Richardson (piano, organ, bass, vocals), Kerri Joy (violin, vocals) and Erin Bekkers (drums), this is a record that is restless and unpredictable, that sees genre as fluid and songwriting as spiritual—an outlet for recovery and escapism.  Opening track Driving is a boppy romp through a memorable trip of distraction and rediscovery. A bracing expression of visceral emotions that refuses to go the easiest, most comforting route with an infectious arrangement built around swirling organ, harmonica and an insistent earworm chorus that just won't let go. Travelling is at the heart of The Way It Goes. A master of imagery and insightful wordplay, this is jaunty and slyly powerful country-rock, perfect for when you're caught in your feelings of what is it all about. He slows it down for the acoustically dreamy Same Blues, in which his voice is captivatingly sonorous, which suits both the lonesome lyrical lines and his pained vocals to a tee.
The poignant title song has the feel of a personal one-to-one conversation with a wise old friend, yet with a universality in the words that should touch all of those that listen. There's a similar poignancy in Good Times Gone, with a delicate melody line that is subtly forceful with great clarity and chemistry. There's a soulful feel with a tinge of gospel on the organ-driven Oh My Lordy, enhanced by the inspirational backing vocals provided by the ladies. Luke's lyrics and melodies are breathtaking. He left me wanting more. Try playing its hookiest track, Lowry Avenue, without hitting repeat. This song could send a bit of blue sky to a world facing so many ills. A keen eye, a dark sense of a humour, and a talent for turning a phrase, Luke LeBlanc's music is upfront in its need for human connection. Dense with new wisdom and blissfully encouraging in these uncertain times, this collection of songs feels complete; no signs of fluff, only pure gold left … the pinnacle of songwriting achievement. ONLY HUMAN is the record we all need now and in fact at any time.
September 2021