Love and Theft - Better Off
ONErpm
***1/2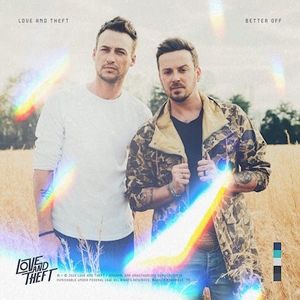 Some longtime admirers might well be surprised by the direction taken by Love and Theft with this six-song EP. Their first new music in more than six years, Eric Gunderson and Stephen Barker Liles have seemingly absorbed fresh influences, creating a record that is fuelled by their new experiences, allowing them to broaden both their musical scope and their aesthetic. A record that runs just under 17 minutes, there's an unhurried quality to BETTER OFF. The six songs unfurl at a humble pace. You can't exactly call this stuff unplugged. It's stripped down, but there's too much electricity crackling around the pairing of Eric and Stephen to contain in an acoustic environment. A combination of Music Row songwriting chops and classic soft-rock musicianship, it's a record that teems with bright melodies, gorgeous rhythms and an optimistic vision. Unlikely to be issued any citations for disturbing the peace, its unhurried, lighthearted country-pop is so warm and inviting, making for an eminently enjoyable album.
Mixing bright pop beats with their signature lo-fi vocalisations, Accidentally On Purpose contains a groove that's easy to relax to. Flush with all the giddy innocence of new romance, the song is a soft, slow goodnight kiss of sparkling country-pop, drawn closer by sly hooks and pulling away with a sweet smile. A sunny production, complete with the catchiest of choruses, the softly rocking Better Off, despite its sensual undertones, feels almost communal, like sing-along fuel for a crowded bar with your good friends. Varying the template and adding to the overall feel, they bring in a catchy, melodic rap chorus to Downhill, which contrasts neatly with the silvery acoustic guitar solo. True love is found in the utterly charming Anyway. Eric and Steve build around the soft acoustic opening to create a swooning power-pop potion where the pair's heartfelt harmonies are the key ingredient.
The steady beat of the drums intertwines with a deep bass, energetic synths and a harmony filled chorus to propel the hypnotic Tell Me What It Feels Like. Emotive and unvarnished vocal performance adds to the swaggering attitude of this post-break-up song. Soaring harmonies and upbeat instrumentation will leave your heart racing through the infectious melody of Mirror, Mirror, yet the lyrics talk about the more introspective and difficult subject of self-worth, something that their peer fans are often concerned with. The pair co-wrote all six songs, but with a new perspective and a newfound maturity that they hadn't yet developed during Love and Theft's initial run. Full of catchy hooks and killer vocals from the pair, the result is an album that is at once intimate and expansive while staying true to the duo's identity.
July 2022