Lori King & Junction 63 - Walkin' The Blues
Turnberry Records
***1/2
There's something refreshing and almost quaint about artists who, through words, music and style, seem to harken back to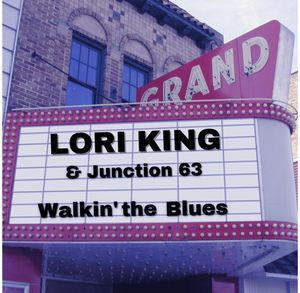 simpler times, even as it's easy to recognise the trap of glorifying bygone eras. This Iowa five-piece band's music is solidly traditional bluegrass, though the band is not afraid to crank up the gospel knob with several religious songs. The sound says it all. Lori and company are true purveyors of an honest sound and they manage to set a high bar that other outfits can look up to. With their close-knit harmonies and an archival-like feel, their music taps into tradition while maintaining its personal credence. At the same time, the songs provide a tuneful tapestry that enhances the rich, resilient melodies throughout. Taking full advantage of an instrumental ensemble that makes good use of acoustic guitars, banjo, mandolin and fiddle, the band toes the divide between classic country and vintage bluegrass.
Lori King is the possessor of an archetypical country voice, full of natural emotion and inherent soulfulness. She met Joe King, her future husband, when they were both members of Bluegrass Addiction. An award-winning guitarist and vocalist, Joe persuaded Lori to learn the upright bass. She has since won numerous awards as both a vocalist and for her bass playing. The couple formed Junction 63 seven years ago. The current line-up also comprises Kevin Amburgey (mandolin, vocals), Kyle Murphy (fiddle) and Mark Hargrove (banjo, vocals). They have become one of the leading bluegrass bands in the mid-west and this third album could see them gaining a much wider following.  
Whether the songs are lonely, like in the forlorn My Heart Won't Let Me Forget You, or irrepressibly optimistic, as in Now There's You, there's an overarching sense of positivity in the music that comes from satisfying harmonies and skilfully crafted instrumental picking. While several of the songs are of a secular nature, the group makes no attempt to mask their religious intents, evidenced by the demonstrative approach accorded Leaning On the Everlasting Arms and Gonna Be Movin', each of which finds the quintet sharing their reverence and devotion with equally upbeat enthusiasm. The latter opens with a gently plucked banjo joined by fiddle, whilst the chorus features all four vocalists joining in with uplifting harmonies. Lori delivers a deep All Is Well With My Soul, her strong yet comforting, plaintive voice intertwines the reality of commitment with faith in a higher power. With subtle musical textures provided by atmospheric fiddle, softly plucked mandolin, guitar and heavenly harmonies, it's hard not to get swept up in the emotion of the song.
The twangy touches of Bluegrass Singin' Man and My Bread Is Buttered in Bluegrass are good-timey, infectious toe-tappers. All In My Love For You showcases the band's versatility, Lori's soothing vocals filled with nostalgic and vivid imagery in this beguiling love song. The vulnerable moments in Raining In Virginia, are the key to this song's emotional beating heart. A lost love song with something of a country vibe, played with the band's trademark bluegrass drive.
June 2021