Loney Hutchins - Buried Loot, Demos from the House of Cash and Outlaw Era, '73 - '78
Appalachia Record Co.
****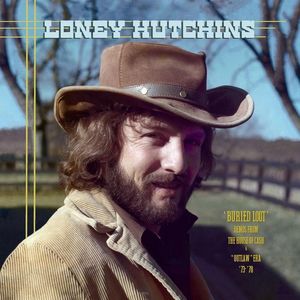 Loney Hutchins has been involved in Nashville's music scene for close on 50 years. The Sullivan County, Tennessee-born singer and songwriter was signed to Johnny Cash's House of Cash publishing company in 1972, initially as a songwriter, but was soon more-or-less running the company. He was responsible for cutting song demos and pitching the songs to artists and producers. This 24-track collection is exactly what it states on the label. Now in his seventies and retired, Loney trawled through more than 80 hours of tapes from the 1970s for this selection of songs, mainly self-penned, but also including early demos of Johnny Cash songs, an unreleased Helen Carter tune (You Gotta Live It Brother (If You Wanna Serve the Lord)) and also a song co-written by famed music journalist Hazel Smith, who coined the term 'Outlaw Country' (Stoney Creek). These demos were often recorded with the cream of Music Row session players including Lloyd Green, Kenny Malone, Sonny Louvin, D.J. Fontana, and more with Carlene and Helen Carter lending their harmonies to some of the songs. His son and label owner, Loney John Hutchins recorded present-day A-list players, adding only minor touches to some unfinished demos.
Though described in his bio as 'a now-legendary Nashville-songman,' the reality is that Loney Hutchins has been one of those 'unlucky' musicians who has been around the big-time, but never quite made it out of being a highly respected 'unknown.' He inspired the character, 'Loney' in Cash's 1976 bicentennial hit, Sold Out of Flagpoles. In the 1980s, having become disillusioned by the on-going commercialism of country music, Loney started his own publishing label, leaning more towards the authentic mountain country music he grew up on. He released several singles and a couple of albums, but his only taste of chart success came with Still Dancing, which spent two weeks on the country charts in 1987. The next 20 years saw him doing pioneering work in music therapy for brain injury survivors, though he continued to perform occasionally on the Opry in the 1990s.
With so much material to mine, from soft minimal ballads to jaunty hops, bluegrass-flavoured toe-tappers to sad lonesome heartbreakers and rural yarns to homely reflections, this set of songs benefits from its expansiveness. The music is by necessity minimal, written on acoustic guitar and mostly recorded live as Loney finds his footing in what's most familiar: jangly guitars, weightless melodies and images of a life that's now just a fond, distant memory. There's a level of detail in his music that sets him apart from other artists of the time, sounds nimbly woven together rather than painted in broad brushstrokes. A few of the tracks feature only his vocals and cascading acoustic or electric guitars, yet it all works to create a tightly cohesive work that will have traditional country fans salivating.
Loney is a Tennessee country boy through and through and his true country roots shine again and again in songs like My Tennessee Hills, a slice of nostalgia which has him pining for the Volunteer State of his youth. It is soaked with longing for a simpler, more innocent way of life and an appreciation for uncomplicated things like the stunning smoky mountain haze. The track is a gorgeously landscaped country winner that is graceful as it is introspective. In similar vein is Paradise, in which he is searching for a better place to be, when it was always right where he was born-and-raised. Despite the hardships, he holds on to happy childhood memories, filled with vivid images of growing up in the country. The collective harmonies, banjo, and fiddles on the celebratory We Got It All, and the folk-like ramble, Four More Reasons all share the same sentiments but in different ways. Several of the songs are loaded with descriptive characters with situational eccentricities that make them each memorable. He crafts story songs with equal measures heart (Whisky Lady) and home (Sheets of Green Clover). Each sharply written narrative owns endless energy, especially the vibrant Daughter Of A Railroad Man. The story of an illicit romance with sweet Billie Jean detailed in Reedy Creek, unfolds like a mix of Bobbie Gentry and Bobby Goldsboro. Loney's lovely down-home voice guides the warm affair with vivid storytelling in the charming, retro atmosphere of ethereal fiddle and meandering acoustic guitar.
He also offers what was probably the original demo for Committed To Parkview, a song first recorded by Johnny Cash in 1975 and later revived by the Highwaymen and Porter Wagoner. Loney turns in a fine version, but it lacks the depth and conviction that Cash and Wagoner brought to this song about mental illness and insecurity. His voice, with its warm, slightly nasal quality, has a dreamy way of capturing melancholy, and we hear that most on Stoney Creek and Every Day's A Monday. There are also plenty of fun, unexpected detours, like the infectious hillbilly duet I Do Declare and the Telecaster-driven Pinball King ode to the paddle-driven game that was so popular in pre-electronic days of gaming. This is an album that is utterly refreshing and equally re-listenable. There's a lot in his music—a pinch of folk, a sprinkle of country blues and a swirl of bluegrass boogie with jabs of crunchy guitar. With his upbeat attitude, as well as for songs and stories that leave an emotional imprint Loney Hutchins brings 1970s country back for old-timers and newcomers alike.
December 2021