Lilly Winwood - Talking Walls
****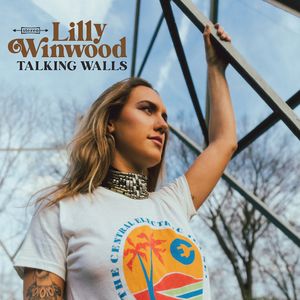 Lilly Winwood's sophomore is all heart—the kind of album that tells honest tales of love and life with poetic clarity, heightened by the superb accompaniment provided by her band and their mesh of electric and acoustic guitars, keyboards and pedal steel. The expertly played arrangements are a perfect fit for her lyrics, both settling into and slightly pushing the envelope of Americana and roots rock. The daughter of British rock singer Steve Winwood makes significant strides as a songwriter and offers up nine sturdy songs that call back to familiar sounds and feel fresh, rather than referential. Like a gallery exhibition, Lilly showcases exceptional examples of the vivid renderings of her relationship entanglements, life changes, people and events in poignant settings of emotional resonance in the tradition of classic 1970s singer-songwriters with hints of 1990s country, heartland rock, California country-rock and pure pop sheen. Regardless of where Lilly draws inspiration, though, her voice and focus are clear on every track as she strives to give listeners something to cling to.
Since the release of TIME WELL SPENT, her debut album some 18 months ago, Lilly has been waitressing to pay her bills. Returning home in the early hours following grueling 13-hour shifts led to Sleep Issues. Its mystical beauty is pacifying, and the guitar lines pack plenty of stimulating twists, often kaleidoscopic, forceful or charred, that heighten the drama of the telling. The vocals of Trisha Yearwood come to mind in a lot of places here, especially Good Ole Days. Driven by insistent percussion and coloured in with guitar interplay, her voice sings of expectations, falling short, accepting reality, and moving on from a disappointing relationship. Paper Trail of Broken Hearts is a song about drug taking and the effects it can have on a blossoming romance. A poppy track that sways casually despite the tough situations that are outlines, this is a redemptive and uplifting track. She enthusiastically offers up Idastoned, a light-hearted old-time pop song about getting stoned in Idaho with an unchallenging but comfortably retro sound, like Nick Lowe veering towards British Invasion pop. She strips everything down for Brighter Days, just the whisper of Philippe Bronchtein's searing pedal steel guitar, some light drumming, and her plaintive vocals, the song slowly yet dynamically building as she turns a brighter corner in her life.
She digs deep into our all-too-human ability to make things harder than they need to be—and how rarely this serves us in the sad-tingled Laundry Day. The heartbreaking song is accompanied by weeping pedal steel and down-to-earth lyrics making for a compelling listening experience. Lilly Winwood's voice is exquisite, her writing organic and relatable, and the music timely. Her stories of aggregating and synthesising hard-learned lessons surrounding her personal relationships are heartrending. But there will always be music to comfort us and empower us to carry on and TALKING WALLS does just that. These stonkingly good tunes just ooze class from the melodies to the arrangements to the production, it's just such a great album. 
August 2022