Laura Benitez- California Centuries
Copperhead Records
***1/2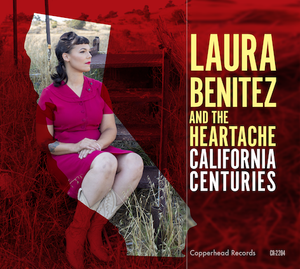 This is California-based Laura Benitez's fourth album (her third with her band the Heartache) and is her most personal and somewhat outspoken yet. The music they play is classic West Coast country but listening to this collection of songs dispels any notion that they are a one-dimensional entity. Yes, this is country, with pedal steel, fiddle, twangy guitars and plenty of danceable foot-tappers with elements of Bakersfield, Laurel Canyon, bluegrass classic country-rock, yet their songs, as stated, are a bit more complex, without the usual clichés. There's no beer-drinking, backroads or trucks mentioned here, as Laura tackles much heavier subjects that those Music Row pseudo cowpokes would rather ignore. And, surely, she has one of the most memorable voices in country-Americana music. Putting a spotlight on her personal life and thoughts, Laura has created an enticing and entertaining compilation of songs that illustrate the triumphs and obstacles that we all encounter in our lives. It's thought-provoking, it's smart, and it's definitely worth another round in a bar east of Koreatown in the middle of a dark and stormy night. If this is the first time you've listened to Laura Benitez and her band, it will be difficult not to come away impressed. 
The album opens with the energetic heart-throbber Bad Things. A jubilant tune straight out of a Texas honky-tonk, except that the lyrics punch you solidly in the gut. A song of denial, it cites such life-changing events as climate change, wildfires, the refugee crisis and Covid, all the bad things that affect others and is no concern of us, as we all bury our heads in the sand as the world and life as we know it, slowly disintegrates around us. It would be right at home on the jukebox or in a line-dance club, if you're one of those listeners who doesn't really listen. She becomes more controversial with the pedal-steel driven Gaslight (We Shouldn't Talk About It), which faces full-on the American passion for guns that has led to mass shootings not to mention police brutality and racial tensions, all of which are just brushed under the carpet. Laura's stance is in direct opposition to the majority of mainstream country acts, many of whom not only favour guns, but are blatantly vociferous on social media platforms.
The songs are not all politically motivated. She turns the spotlight inwards to her family with All Songs and A Love Like Yours. Each of the songs convey a profoundly personal touch, whether it's the love of her partner Bryan Kilgore, who provides vocal harmonies on the album, or recalling comforting her daughter with All Songs, when wildfires raged near to their home. Both songs showcasing the band's knack for turning wistfulness into earworm melodies. She swerves into a bluegrass arrangement for God Willing And The Creek Don't Rise. High-flying fiddle, jangly guitars and Dobro, her honey-toned vocal acting as the centerpiece. A tune to swing from the rafters to even though lyrically it's all about overcoming hardships with a smile and optimism. Suffice it to say, this album provides plenty of reason to describe this effort as a hopeful move indeed. It's solid from start to finish. It doesn't stick in one place sonically, and it's effective at a number of moods—which is more than you can say for a lot of country acts these days.
http://laurabenitezandtheheartache.com
August 2022