Laci Kaye Booth - Laci Kaye Booth
BMLG Records
***1/2
Hailing from small-town Texas, this American Idol finalist moved from her Livingston hometown to Nashville, chasing her country music dream, following several years of singing quietly in café and restaurant corners for mainly indifferent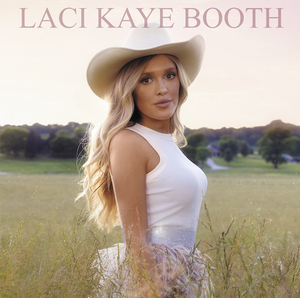 listeners. She also independently released her music to a small, but dedicated fan base. The American Idol success was the catalyst that drove her to Music City with the realisation that, maybe she could make it in music. It helped that several labels saw the 25-year-old's potential and after several co-writing sessions with some of Nashville's finest, she landed a deal with Big Machine leading to the release of this self-titled debut EP. The eight co-written tracks feature silky harmonies, wistfully romantic lyrics and sunny, honeyed arrangements. She calls her sound 'dreamy country' and you'll hear bits of Stevie Nicks, Lana Del Rey and Norah Jones here and there, but overall it's a lyrical voice that's wholly original and well worth checking out. Yeah, I know, there's a distinct lack of twang or edginess, but there's beauty to be found in the music here, no matter your musical leanings. A rich and fully realised sound that will leave you pining for more ... much more! 
The opening Used To You, sets the listener up for what's to follow. Softly strung acoustic guitar and gentle percussion creates a dreamy aura, her vocal a wafting wonder as she whispers sweet words of a comforting romantic commitment. It's not all happy-ever-afters. Visions finds her voice rising from and sinking into a delicately layered soundscape with a flying vocal journey of relationship uncertainty. Her phrasing is like a lens that brings emotions into focus as the song builds ever so steadily into a sweeping, sentimental heartache. She is joined by the distinctive tones of Lady A's Charles Kelley on Broken Heart Still Beats. A moody, driving slice of country-pop featuring a gorgeous arrangement, with its upbeat melody, this one draws out a smile rather than the expected frown. She shows that she can handle a heartbreaker with sensitivity and pure emotion with If He Would've Stayed. Creeping into life with an intimate hush, the song is shot through with a sense of wonderment of why, allowing Laci to offer sincere reserve and empowering energy within the same three minutes without any sense of contradiction.
She can both float in on a cloud of love songs and crank out up-tempo country tunes with a gutsy edge. She references some strong women songs on the more ebullient Shuffle, though she wraps the reminisces in wry humour as she battles her own ever-changing emotions. There's a Sheryl Crow rasp to the funky On The Fence, again with doubt colouring her relationship as a banjo plucks away in between the rock-styled electric guitar thrust. Uncertainty is at the root of Heart Of Texas, in which she casts doubts on her move to Tennessee. With a voice like warm rain and steel and fiddle weeping in sympathy, this recalls the hushed grandeur of a classic Hollywood weepie and seems destined to soundtrack a movie breakup scene or two. It also shows how well she can evoke emotions—whether it's a song that makes you laugh or a song that hits you right in the heart. It's not an escapist album, but it is a soft, dreamy place to come to. Laci Kaye Booth's moving and exhilarating songs will move listeners and touch souls making all who hear them feel sadness, loss, and above all, love and joy.
August 2021