Lachlan Bryan & the Wildes - As Long As It's Not Us
Social Family Records SFR014
****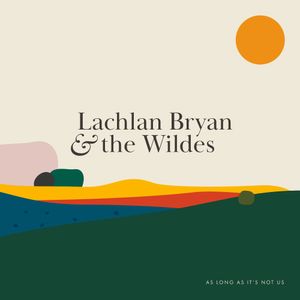 Based in the Melbourne suburbs, this is the Aussie band's fifth album in a career that stretches back over the last ten years. While there are those that would describe them as Americana or alt.country, simply for the sake of convenience, the band's penchant for bending the boundaries and stretching the parameters make any attempt at typecasting meaningless. The record sounds more like a singer-songwriter album than a band project, yet with several different writers and co-writers involved, never seems disjointed, as it flows seamlessly from one track to the next, with a cohesiveness that belies its overall diversity. It's the sort of album that doesn't come around often enough; one made with more than a one colour palette, with songs that ache and roar. As is often the case when recording with a band you play with so frequently, the result here is tight, impressive musicianship. The songs are mainly upbeat, uplifting and flush with a series of rich arrangements that make the material practically leap from the grooves. But as much as this set deals with conversations, relationships and connections, a thread of depression and isolation also runs through the songs.
It's a musically excellent and an enjoyable listening experience because Lachlan and his bandmates understand their songs and their sonic palettes. The driving rhythm of the title song reels you in. Initially it seems slightly tongue-in-cheek as it challenges assumptions, sometimes head on, sometimes more abstractly. A light, cheerful song with a toe-tapping melody that will surely be caught in your mind for hours after listening. It's a song worth playing on repeat, but then again, there's always You Remind Me Of Myself. Infused with a shot of Creedence this shows these Aussie dudes off to their best advantage. Bringing to mind a 1970s country-rock sound this exists near the intersection of Pure Prairie League and quiet storm country-soul. Never Said A Word is full of desperation for companionship. A search for a partner despite past failures and break-up traumas. See if you don't agree that this song, has a special charm that belies its desolate style and pained lyrics.
Quit While We're Ahead employs a swirling carnival organ sound that helps to create the sepia-tinged relic of past feelings disclosed in a menacing vocal that makes this pending break-up far from hostile. By contrast, the ominous pseudo murder ballad I Went Down warns of the danger of despair and fear with Lachlan's vocal echoing a ghostly wail with the sinister guitar lines adding to the nightmarish scenario—the perils of shutting that sense of wonder out of your life with only darkness left. The Road delves even deeper into dismal disappointment, a smooth, bluesy number that Lachlan delivers with his signature lonesome style; vast, yet dense—sparse and lush. The jangly Take It Out On Me blends country with modern rock'n'roll with twanging guitars that sound just right for a band like the Mavericks, but suits this outfit even better.
Lachlan Bryan and the Wildes have crafted an album that feels both disarmingly at ease and refreshingly ambitious. It's as if this music's been residing in the ethos forever, simply waiting for the opportunity to present itself. This is only the beginning of the kind of needle-moving, evocative songcraft that changes the course of peoples' lives.
www.lachlanbryanandthewildes.com
November 2021