Kimberly Kelly - I'll Tell You What's Gonna Happen
Show Dog Nashville/Thirty Tigers
****1/2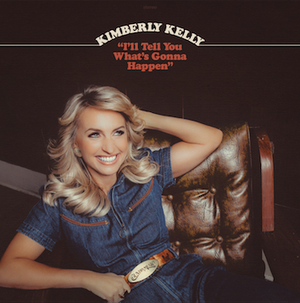 Classic country vocalist Kimberly Kelly sounds like she comes from another era, when country musicians didn't aspire to crossover into the pop world. On this, her debut full-length album, following an independently released EP, she polishes her Texas-styled honky-tonk to a high gloss. Exploring traditional country realms like the country waltz, quirky break-up songs and toe-tapping two-steppers, the robust sound, crafted around fiddles, steel guitar, mandolin and country guitars, is reminiscent of the mainstream country native to the 1990s, yet not as clearly defined from song-to-song. Though the music is top-shelf, with writer names like Bob DiPiero, Jessi Alexander, Karyn Rochelle, Kent Blazy, Lori McKenna and Dale Dodson dotting the track list, the star here is Kimberly's ability to tell a story—both through her voice and the lyrics she writes and selects. She has grit mixed with personality, fluency in her musicality, she's expressive and imaginative. She's a much-needed female voice on country radio, will those cloth-eared programmers embrace this bold and brazen album that will joyously haunt the inquisitive listener.
Sawdust thick, whiskey-smooth, her seductive vocal is smart and magnetic on the vibrant Honky Tonk Town opener. With a come-on smile, a sly wink and full of confidence, her phrasing and vocal power drive home that this woman is all dressed up and ready to be out on the town. Close your eyes for a moment, and you think you're listening to a kick-up-yer-heels Patty Loveless song. The standout song for me is Summers Like That, that takes the listener back to classic country hits of the mid-1990s. It's an approximation of that glorious feeling that a great song can bring out of you. And how listening again and again to favourite songs can bring back those memories of when they first grabbed you. Warm, lo-fi and lyrically innocent, one might feel the impression of a VHS tape pressed into a TV set during late adolescence. A feeling made more memorable only through its distance, through the act of remembering it. The acoustic guitar underpinnings and swelling steel guitar combined with Kelly's poignant vocal sets the tone for I Remember That Woman. A swaying mid-tempo number with a cajoling cynicism as she delivers a fine balance between righteous anger and sensitive empathy to the distraught, heartbroken woman drying her tears in the restroom.
Another classy break-up song is Person That You Marry. Co-written by Kimberly, hubby Brett Tyler and Lori McKenna, she exhibits impeccable phrasing and a lush sound combining mournful fiddle and weeping steel guitar that suggests the perspicaciousness of Kacey Musgraves shot through with sombre, Lee Ann Womack threads. She takes us back into the barroom with No Thanks (I Just Had One), a smoothly executed honky-tonk put-down ballad with Kimberly providing the vocals in as gloomy and friendless a manner as one might imagine a lonely woman sitting on a barstool impervious to the guy trying to chat her up. Being from the Lone Star State, she had to have at least one 'Texas' song on the album, and Forget The Alamo has a clever twist that is quite endearing. It's the age-old story of a romantic beau going off to find fame and fortune, with a promise that's impossible to keep. With its mid-tempo country arrangement of pedal steel, fiddle and twangy electric guitar picking, this one is a perfect enticement to swirl around the dancefloor.
Kimberly takes us back even further to the 1970s with Blue Jean Country Queen, a spicy, up- number with echoes of Queen Of The Silver Dollar. Co-written by Kimberly, Brett Tyler and Steve Wariner, this paints a perfect picture of the glamour queen we've all seen strutting into a gig and turning heads. Wariner adds his own distinctive guitar work to the country-rock arrangement. Kimberly closes the album with a revival of Billy Joe Shaver's Black Rose. With a slight change to the lyrics, this is a heartfelt tribute to the late Texas outlaw, who was something of a mentor to Kimberly in her early days of playing gigs across Texas.
June 2022