Katie Callahan - The Water Comes Back
Self-Released
****1/2
Katie Callahan has been singing and creating music from a young age, now a thirty-something mother, housewife, artist, singer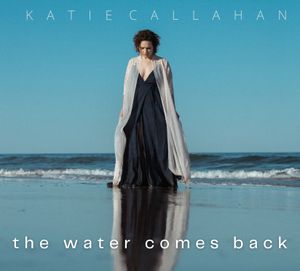 and songwriter, she didn't get to release GET IT RIGHT, her first album, until a couple of years ago. Growing up in a religious family, her spirituality has been a guiding light throughout her life. She served on her small community church worship team and whilst studying at Goucher College near Baltimore, she became a performer at the campus coffee house and other small venues. Following graduation, suffering persistent depression, the recession and a failing marriage, led to her quitting performing for the next ten years or so. She found work as a manager in a wine shop, where she met, and eventually married the owner. Her dormant creativity was rekindled by writing a wine column for an online publication. Following the birth of her second daughter, she began pursuing her songwriting with renewed energy. The challenges and traumas that led to this new start have made her talents as a musician and songwriter even sharper.
She writes eloquently about universal themes like love and loss, leaving and coming home, creating characters to put a face on those themes and weaving settings rich in history, nature, and experience. But there is so much more than those simple themes in Katie's work as she boldly confronts issues that have troubled her for years. In times of instability, oppression, division, and cultural chaos, artists are there to question the status quo, using their creativity to bring overlooked issues to light. Katie does just that with the release of this new album.  She is led by her passion for creativity, and her endless fascination with exploring both the world outside and her inner muses. She shines brightly throughout, thanks in large part to the immaculate production of Jars of Clay's Matthew Odmark and pristine musicianship found on the record. Ultimately, though, the album stands out thanks to the focus remaining firmly on the singer and writer and nothing else.
What makes the album especially intriguing is the way women are a prominent part of the storytelling process, particularly on the strong Witches. Dustin Ransom's delicately played Spanish guitar creates a haunting folksy vibe that disguises the tightly woven narrative of the enduring denigration of women who stand up for themselves by society at large. Though it's a powerful message, there's a genuine beauty to Katie's melancholy and existential pondering. The plaintive Goodbye Baby portrays the anguish of miscarriage, with a mother facing up to a future when she can finally come to terms with her loss. The leading instrument on the track is Katie's own lush, rich voice that conveys just the right amount of emotion and pathos.
She really is a masterful storyteller who can turn what seem like obscure historical references into engaging tales rife with vivid, stark imagery. The accordion-led Notre Dame cleverly weaves in the disastrous fire in the famed Paris cathedral and how a trip to the French capital helped her overcome her pain and loneliness. This is a song for a sore heart, and Katie leans into the sting, but only so her croon can act like a warm compress to soothe the pain and embrace the future of a new romance with a wine shop owner. Sri Lanka features beautifully written lyrics, intricate chordal patterns and a refreshing plain-spoken vocal clarity about the 2019 terrorist bombing of a Sri Lankan church. A dark melody rumbles beneath the tune, with Katie's voice sounding unaware of its own beauty and power, the energy amplified by the tune's withering lyrics. I think that I Won't Give Up was written, specifically to brighten people's lives during the darkest times and is an unabashedly smiley, singalong number. A humble, emotive guitar tune about self-acceptance, the song has lyrics that encompass facing up to the fears and loss of freedom caused by the pandemic and being a free spirit running with your own beliefs and goals and mirrors the intellectual and spiritual being that is Katie Callahan.
Defiance and hope flow through every song of THE WATER COMES BACK, testifying to Katie's passion for her community and showcasing her ingenious ability to find just-right words and phrases to express anger, disillusionment, protest, hope, and love. The gleaming, wistful atmosphere of her songs is truly enthralling. You can't help but connect with this album.
October 2021