John Hiatt with The Jerry Douglas band - Leftover Feelings
New West Records
****1/2
A shimmeringly enthralling record of bruising timelessness, this collaboration between cult singer-songwriter John Hiatt and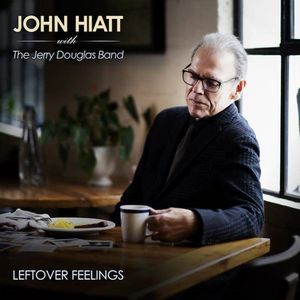 acclaimed Dobro master Jerry Douglas and his band doesn't stick to any one genre but blends them seamlessly for Hiatt's most accessible-sounding effort in his 5-decade career. Probably best known to music fans through his songwriting. Hiatt has had his songs covered by Rosanne Cash, Rodney Crowell, Willie Nelson, Emmylou Harris, Linda Ronstadt, Suzy Bogguss, the Nitty Gritty Dirt Band, Bonnie Raitt, Bob Dylan, Jewel, Dave Edmunds and many more. His creative songwriting talents have been recognised with Grammy nominations, yet his own recordings have been steadfastly ignored by the vast majority of record buyers. Despite this, he commands a loyal following, has released more than 25 albums and tours incessantly, not just across America but also widely in Europe. From the outset of his career, he has always followed his own muse, completely oblivious to musical trends, commercial aspirations or what the men in suits demand. Informal, off-the-cuff recording sessions have always brought out the best in him. As it is with this album—recorded 'live' on the floor, in the old-fashioned way, in the historic RCA Studio B in Nashville.
Jerry Douglas is also a risk-taker and multi-tasker. Typically found in the company of others, both while jamming, at the helm of his own band and in tandem with his long-term tenure with Alison Krauss and Union Station, that's become essential to his day job. In a career that spans four decades and encompasses over 2000 recordings, Douglas has more than earned his status as one of the world's most celebrated musicians. In addition to his instrumental mastery, the 14-time Grammy winner and three-time Country Music Association Musician of the Year has established a reputation as a ceaselessly inventive recording artist who has drawn from a bottomless well of rootsy styles to create a consistently compelling string of solo albums and collaborative projects. Bringing together John, Jerry and band members Daniel Kimbro (bass, tic-tac bass), Mike Seal (acoustic and electric guitars) and Christian Sedelmyer (violin), has resulted in some quite amazing and magical musical masterpieces, that perfectly complement John Hiatt's incredible songwriting.
His songs are often populated with characters who have found themselves at their worst moments and what they do after that. They are both timeless and of their time, lyrically ambitious and cinematic in scope, with imagery often detailing the seedy or hard-scrabble side of life. The light-yet-propulsive opener, Long Black Electric Cadillac, conjures the best of this pairing and commands your attention from the outset. The track reflects the fact that the Jerry Douglas Band is a most cohesive outfit, one that benefits from each member plying their talents with combined purpose and perspective. Musically, Music Is Hot, features atmospheric, languid grooves that float behind John's reflective vocal and Jerry's always sensitive, inimitable slide guitar work, in tandem with Christian's violin. For Buddy Boy, he brings forth his raspy Louis Armstrong-styled voice that is offset by a generally delicate arrangement of strummed acoustic guitar, enhanced by melodic Dobro runs, that adds colour to a ponderous rhythm.
All The Lilacs In Ohio has a nice, quick beat, with some hot picking from Jerry and Mississippi Phone Booth features earnest, forceful vocals from John. It's earthy stuff, with the dirty roots exposed for us to chomp on and savour, a down-home dinner that sticks to your ribs. Even on a dark tune like I'm In Asheville or the slow unwinding of Light Of The Burning Sun he finds beauty in moments of solitude and bereavement. Elsewhere on the album, the band demonstrates its ability to effectively vary the tone and template, from the upbeat ramble of Keen Rambler to the weary resolve of Changes In My Mind, which give us the album's airiest, loveliest vocal and arrangement.
www.JohnHiatt.com
www.JerryDouglas.com
www.NewWestRecords.com
May 2021