Jim Patton & Sherry Brokus - Going The Distance
Berkalin Records
***1/2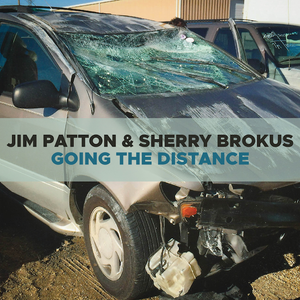 This Austin-based couple have been presenting their unique blend of soft folk-rock for a number of years. Conceived and recorded during the pandemic, this latest record is an apt soundtrack to nowhere during a time marked by creeping anxiety, societal fraying, and no real answers. Their's is a low-key sound in a certain respect, but the messages they convey reflect everyday scenarios and situations bolstered by an array of current topics, The fact that these songs maintain such a low-cast gaze only accentuates the earnest emotions that populate the material, adding a sense of optimism and furtive longing at the same time. An intensely alluring album it is a roots celebration that uplifts with their stunning harmonies, Jim's rough-hewn lead vocals and the inventive instrumental support provided by such Austin studio veterans as Warren Hood (fiddle), Rich Brotherton (acoustic guitar, cittern, mandolin), Bill Kirchen (Telecaster), Eric Hisaw (lead guitar), John Bush (percussion), all brought together by producer Ron Flynt (bass, piano. harmonium, harpsichord, accordion, acoustic 12-string and baritone guitar).
Cast in gorgeous arrangements and carried to uplifting realms, the themes cover love, sorrow, struggle, under-achievement but also encourage ambition, friendship and unity against a superb foot-tapping come head-nodding musical outage. This isn't to say the album is chock full of rainbows, but rather it brings forth semblances of goodness through confronting the emotional and tangible stress and confusion every human being faces. The title song, a co-write by Jim Patton and Jeff Talmadge, though specifically dealing with his relationship with Sherry, is universal in its theme of a couple working through the ups-and-downs of staying together despite everything that life throws at them.  In this time where anxiety is high and comfort difficult to find, this warm musical embrace is just what we need about now. The pair speak for most of us with Struggling, a song that rings with resolute determination to traverse this crazy world of an obstacle course of on-going difficulties.  
They ply each of their arrangements with carefully considered subtlety and finesse. There's a Holly-esque vibe to Brand New Love. While it is infused with that sense of longing, the song is in fact a joyful celebration of how the whole world lights up in those first few weeks of falling head-over-heels in love. In that sense the duo possesses an uncanny knack for parlaying earnest emotion into an otherwise unassuming setting. They ring the musical changes with the vibrant Austin Night, a dynamic slice of country-rock with Bill Kirchen adding his distinctive Telecaster aided by 1950s-styled vocal harmonies, as the track rocks and bops back in time. Jim's voice is exquisite, his writing organic and relatable, especially on I'm Still A Dreaming Man, and the music is timely. The sparsely used instrumentation—which employs harpsichord, harmonium, accordion and acoustic guitar—is effective, but it's the predominant plain-spoken heartfelt vocal that's the star of the show. There really is something quite beautiful about the main melody and Jim's soft voice. They close the album with a 30-second a cappella version of Going The Distance (Slight Return), a choral rendition with Betty Soo adding to the gorgeous four-part harmony-work. A calm caress is needed more than ever these days, and as a result, Jim Patton and Sherry Brokus and company deserve kudos for maintaining such ease and equilibrium. GOING THE DISTANCE is very fluid and flowy. Give it a listen and unwind. 
https://jimpattonsherrybrokus.bandcamp.com
May 2022