Jim & Lynna Woolsey - The Fall
Bell Buckle Records
****
Jim & Lynna Woolsey, a husband-and-wife music-making couple, met some forty years ago and in their quiet and unassuming way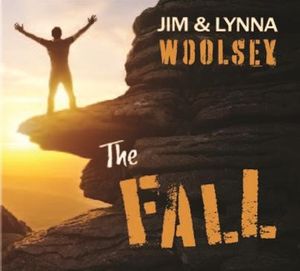 have been creating music together and separately ever since. Working in such groups as the Patoka Valley Boys, leading their own bands and performing as a duo, they have built up a solid following. Over the years they have appeared alongside such major acts as Marty Robbins, the Nitty Gritty Dirt Band and Andy Williams and participated in numerous fiddle and song contests. Surprisingly, despite their long career, THE FALL is only their third album release. During the pandemic lockdown in the summer of 2020 the couple decided to write a Christian faith-based story that was basically a collection of stories from their lives. To coincide with the publication of the book, also titled The Fall, they gathered together a collection of songs they had written that had come from the events in their lives for this album.  
The couple present their songs with earnestness and compassion, mainly in a rootsy, bluegrass styling with some crack musicians providing the sensitive accompaniment. In these times, when social distancing is a necessity and life with a pandemic becomes the new normal, we could all use a little more warmth, earnestness and compassion in our lives. The songs, like so many of their songs before, feel like companions for a journey that often leaves us lost, confused or lonely. Life and death, surrender and commitment, pain and wanting, there is no sacrificing the emotional turmoil and catharsis at the heart of the songwriting with this new chapter in their life. This set of songs proves that by shining a light on gut-wrenching realities we all face, glimmers of hope can shine through: A significant and often overlooked part of surviving the most chaotic and trying times is manifesting joy. Finding ways to remind yourself of the things you're grateful for and all the different ways people can be good to each other is crucial. It is easier to feel discouraged, hopeless about the future. But what happens when we just allow ourselves a break from that dark cloud following us around and try to find some joy? That is the question at the heart of this album.
Humanity finds its way into every song. The intricately woven family ties of the sad, yet hopeful She's Gonna Fly, the steadiness and peace of mind of a Second World War veteran nearing the end of a long and fortunate life in The Road That Brings You Home and the friendly advice offered in Just Like Me viewing our treatment of others as keys to improving ourselves before we take on the world. Beyond the questions that are posed by various experiences and expressions of faith, Jim gets deeply emotional with Will Anybody Miss Me, in which a widower questions what his life has all been for. Thoughts that we all have at some point in our lives, yet he turns it around neatly that his life will surely extend far beyond this earthly divide. Last Train Out is a heartfelt homage to precious memories destined to forever remain a part of both past and present. Lynna's dulcet voice provides instant comfort. If you've ever lost a loved one and miss them desperately, this one will give birth to a tear. Even on more propulsive numbers, this couple remain faithful friends. Will You Be Ready with its strident bluegrass arrangement and the sprightly title song finds them wading in those familiar gospel-tinged waters—in many ways, their sweet spot.
March 2021