Jefferson Ross - Southern Currency
Self-released
*****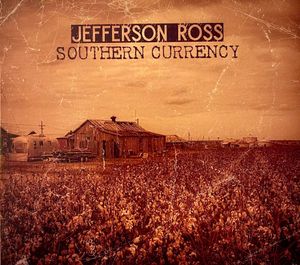 A modern-day troubadour, Jefferson Ross started recording some 15 years ago, but has a sound that harks back to the great country-folk pioneers of the early 1970s. An inspiring songwriter, distinctive vocalist and in-demand guitarist—he has played for Terri Clark and other Nashville-based performers—Jefferson is also a highly respected painter, displaying his art at festivals and galleries across the American South. After spending several years in Nashville, where he worked as a staff writer for several publishers and plied his music, he moved back to his home state of Georgia, settling near Atlanta with his wife and family. His passion for the Southern states is very much at the heart of SOUTHERN CURRENCY. A sublime, noble, sensitive and gripping album—that's got classic stamped all the way through because of its endless, earthy glow, riveting tales and downright Americana magic. This no bombastic view of the South in the vein of Hank Jr. it's a rich portraiture of the varied landscape, sounds, music, people and very spirit of the South. The subtlety of Jefferson's compositions is a testament to the 'less is more' approach, which is particularly apropos for an album dedicated to the more laid-back lifestyle prevalent in the South. A master in situ, unfurling melodies and savouring every note, he moves so effortlessly between radio-friendly country, bluegrass-flavoured tunes, reflective balladry and even a slice of Cajun, as his skill becomes impressive and his serenity becomes contagious.
The album sounds both rich and rugged in its overall execution as Jefferson showcases both his poet's talent as a wordsmith, as well as his film noir flair for storytelling. Each song takes on the flavour of each of the ten Southern states. Opener Alabama Is A Winding Road, is a deliberate song of tight fiddle-driven jangle country that takes the listener simultaneously through Alabama's tumultuous history and terrain. Full of vivid and expansive imagery, the whole song feels readily significant, a subtle but wonderful taster of a suitably special record. The Civil War tale of Two Kentucky Brothers, though inspired by bluegrass, is also clearly imbued by an emphatic imprint of his own. He weaves a dark and engaging spell with this folky and heartbreaking story of a family split by conflict. His ease and strength as a vocal storyteller continues to grow with Turquoise And Tangerine, a combination of a Tom T. Hall yarn and a laid-back Mac McAnally gem. A simple conversation with an old-timer sat on a pier is transformed into a refuge from the wild outside world.
There's a Gordon Lightfoot, folk-country vibe to You Can't Go Home Again, with reliable set pieces from the classic country canon in unexpected variations that make the song feel at once fresh and familiar. Jefferson seems unflappable as he tackles a variety of styles and topics, from the rollicking swing of King Of Mississippi, which is in a country-blues style, sung in his clear and invigorating voice to The Nashville Neon Waltz, which has a timeless country spirit that's heightened by the prudent use of fiddle, guitars, upright bass, percussion and mandolin. He only needs understated, finger-plucked acoustic guitar to set the delicious bluesy swing of Hot Springs in motion. His songs are all lyrically and melodically deep and the characters and situations are like compressed theatre.
Credit should also be given to producer Thomm Jutz and the small band of skilled players he pulled in for this outstanding album. Back in the early 1960s, when I first started buying records, I took note of great producers such as Owen Bradley, Chet Atkins, Snuffy Garrett, Bob Johnston and Fred Foster, each of whom stamped their own personalities on everything that they produced. Thomm Jutz is in that elite class. With musicians of the calibre of Tammy Rogers (fiddle, harmony vocals), Mike Compton (mandolin), Mark Fain (upright bass), Lynn Williams (drums, percussion), plus Thomm and Jefferson on guitars, this album is full of inspired musical arrangements. The fact that the album itself is such a stunning success provides ultimate confirmation that his work was well worthwhile. Jefferson Ross is a model for his generation in showing how to have sequential careers, remain independent, and produce work that is both accessible and thought-provoking.
February 2022