Jamestown Revival - Young Man
Thirty Tigers
****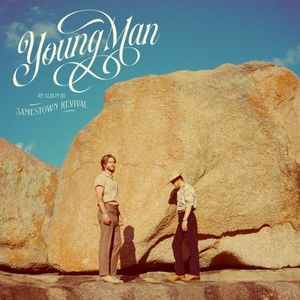 Jamestown Revival, a duo comprising singer-songwriters Jonathan Clay (keyboards, vocals) and Zach Chance (guitar, vocals) have been creating charming folk-country songs for more than a decade, releasing a series of albums, EPs and singles that have gained them a sizeable cult following and critical acclaim. They have continued to develop their sound of tight harmonies accompanied by acoustic picking and a backdrop of swirling pedal steel, fiddle and light piano touches, which is best described as an honest blend of folk, country and pop with hints of western influences. This latest album recalls a simpler time with their co-written songs sounding like they have been plucked from the 1960s but produced with modern-day approaches. The music is by necessity minimal, written on acoustic guitar and mostly recorded live as the pair find their footing in what's most familiar: jangly guitars, weightless melodies and images of wind-swept prairies. Jonathan and Zach's harmonies weave back and forth to form an unmistakable and magnetic sound, reminiscent of Simon & Garfunkel or the Everly Brothers, and more recently, the O'Kanes, the Fleet Foxes and the Lone Bellow. Despite these comparisons, Jamestown Revival have their own natural way, and it is infused in every deep moment of every song here … and to the credit of Jonathan, Zach, and the studio band, these songs are outstanding.
The opening Coyote is reminiscent of an old Bob Nolan western ballad with Will Vanhorn's harmonic steel guitar perfectly echoing Hoot Rain's 'singing steel' that played such a pivotal role in those early Slim Whitman classics of the 1950s. The sonic spaciousness of floating shimmering guitar lines captures a desolate prairie landscape. In the midst of this emptiness the arid and sombre vocals of Jonathan and Zach shiver with naked, raw loneliness. The relative starkness of Northbound brings to mind late 1960s-early 1970s West coast harmony-laden light rock as they blend intricate steel guitar patterns and stirring atmospheric sweeps with flavourful acoustic guitar for an entrancing musical excursion. One Step Forward opens with sparse acoustic guitar notes before blooming into a Celtic-tinted tune with Ross Holme's crystalline fiddle runs spiraling into an ethereal atmosphere that evokes the struggles of pushing through life's difficulties.
Ironically Slow It Down, is the most up-tempo tune featured, with persuasive percussion interweaved with pedal steel, funky acoustic guitars and exuberant vocals as the duo revel in the jangly, freewheeling days of carefree camping, open roads, fishing and singing the good ol' songs. Their multi-instrumental, nostalgia-bedecked harmony machine is in full flight on Way It Was, the unique, melodic hook-laden blend of folk-a-billy recalling the best work of Guy Clark … a fiendishly catchy example of the finest songwriting you will ever hear. There's more of the same on the superb title song. A haunting and poetic memoir of life past with its loping guitar and fiddle patterns it's easy to get lost in the minimal, chasmic, but beautifully arranged soundscapes of what was and what might have been.
Despite the more laid-back acoustic approach, the duo's ethos remains true to its early sonic ambitions. YOUNG MAN is harking back but also looking forward with another choice crop of well-crafted songs with a sentiment that skews strongly toward their small-town Texas origins as they spin stories with inspired arrangements that take the best elements from the rich traditions of country, western and folk.
December 2021