Self-released
****1/2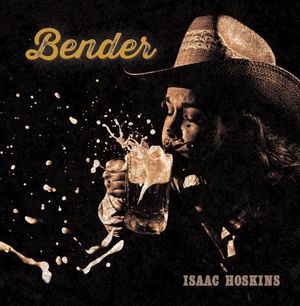 BENDER is an album for those of us who love country music but didn't bother to watch the CMA show yet have an enduring love for the genuine music of George |Strait, Alan Jackson, Merle Haggard, Guy Clark, Mark Chesnutt and Tracy Lawrence. The easy, rootsy nature of both Isaac Hoskins' approach to recording and his lifestyle as a whole is reflected in a collection of songs that are never less than warm and wholly inviting. In some ways, 'roots music' is almost as broad a term as country or Americana, as dependent on location and circumstance as any specific instruments or vocal styles. You put down roots where your seed landed.
Isaac's inspiration is drawn from the alternately fertile and dusty soil of Northwest Oklahoma; his songs exude a Texas sensibility and wide-open, spacious, cinematic vision. Throughout, Isaac makes his craft sound easy; he wastes no time with over-instrumentation or unnecessary words. With him there are no distractions as he shares only and exactly what is needed to connect with the listener. They are words that ring beautifully true today, and words, like much of his work, that will continue to bring life to listeners for years to come. He is one of those songwriters who automatically plants your heart in your throat—the ultimate goal for fans of country and Americana music. So much so, that even the most strident traditionalist would consider his blend of roots music of the finest vintage.
Isaac's songwriting is razor-sharp, nodding to past influences but assuredly forging his own path. A couple of songs from this album, opener H-Town Turnaround and Off The Wagon, are featured in the new hit TV series Yellowstone. That opening salvo is powerful music for open roads and endless dreaming; once it's turned on, time is suspended by the limitless layers of unbridled, electric country sound. Reminiscent of the early days of George Strait, this is a near-perfect blend of Americana grit and country music haze that reflects his experiences of traversing the Texas highways and byways. Just as thrilling is Panhandle Wind, dusty and a little lonesome, with some trad country touches and honky pedal steel flourishes as well. There's even more pronounced steel in My Memory, a relatively subdued meditation on spiritual salvation in an era of loneliness, while the fiddle-driven Back To The Saltmine is a working-man's anthem fueled by Isaac's days of digging ditches, construction worker, beer truck driver, and ranch hand. 
Harder Than The Blues sees Isaac channeling Haggard by way of George Jones, capturing the bittersweet triumph of getting sober and growing up.  If It's Meant To Be is a captivating song that showcases his vulnerabilities with confessional lyrics about love, loss and fate that serves as a much needed inspiration of just being satisfied with what you have as a regular guy. With every song Isaac proves why he's deserving of airplay in the country mainstream and with The Pistol And The Prayer, he delivers a great story song with tempo to boot. One that the late Johnny Cash would have loved to claim for his own. He closes with another convincing yarn in Leon's Blues, based on an old guy he knew as a youngster. A laid-back acoustic arrangement, this is music that just feels meant to be played and listened to by itinerant folks hanging around a fire at night. A compelling document of a musician working at the height of his imaginative powers, BENDER is the culmination of years of genre experiments and an artist freely following his every whim. The charts are full of country music wannabees, so check out the real thing!
November 2022