Pigasus Records/Songs & Daughters/Big Loud Records
****1/2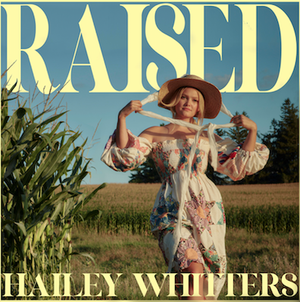 When I reviewed Hailey Whitters' LIVING THE DREAM breakthrough album a year ago, I cast doubts on her vocal distinctiveness. I commented: 'she has a pleasant country-pop voice, pens great songs, but vocally, she's not up there with the likes of Patty, Faith, Martina, Suzy, Lorrie … and Trisha. That just might be the reason why she spent 12 years in a ten-year town waiting patiently for that big break.' In the past twelve months she has amassed a sizeable fan following, guaranteeing success for this latest album. Though at times I wasn't sure whether I was listening to Kacey, Brandy or a myriad of other girl singers currently pounding the Nashville sidewalks, Hailey does sing quite beautifully and there are a lot of songs that really stand out. Digging deeper than ever before, this is her most honest music yet. She is certainly one of country's more thoughtful artists with this extravagant batch of 15 songs in which she is just trying to figure out where she came from by spooling through chapters of her past. She probes her growth with a candour that should resonate strongly with those who have relocated to an urban environment after growing up in the country as Hailey relives that experience.
The album is book-ended by Ad Astra Per Alas Porci, a classical piece, which at first listen seems to have no connection to the 15 songs in-between. Initially, I thought it might have been a reference to the beginnings of the Grand Ole Opry. Back in 1927 Judge George D. Hay, the announcer on the WSM Barn Dance, announced: 'for the past hour you've been listening to Grand Opera, now we present Grand Ole Opry,' and the WSM Barn Dance was forever referred to as the Grand Ole Opry. Hailey's explanation is that the Italian phrase refers to Pigasus, which happens to be the name of her own record label. The music Hailey presents, though not strictly 'traditional country,' is certainly closer to the music's rural roots than most of the so-called country music coming out of the Nashville studios these days.
Raised is a rolling reflection of her early life in Shueyville, Iowa as the well-written lyrics evoke the personal nostalgia and the rural melancholia of the mid-west with a vivid landscape. Though she left home fourteen years ago, fond memories of where she was raised remain strong and the song is perfect for a young artist like Hailey, with its sentiment of feeling the pull of home once you are out on your own. With fiddle and steel guitar lines setting the musical tone, in Big Family, she sings of the sweet, simple joys in being part of an extended loving community of relations. There's more of the same in Middle Of America, an exuberant throwback to the simple joys of the good life that can be had in a carefree environment. She is joined by members of American Aquarium, giving the song an extra sing-along depth that is quite irresistible. There's a light-hearted feel to Our Grass Is Legal, in which Hailey uses the Whitters family turf farm as a basis for a near-autobiographical account of growing up in the bosom of an all-American family. A captivating mid-western blue-collar anthem that will resonate with many who hanker after the good ol' days. She opens up even more about her own younger self In A Field Somewhere—where she gained her real education of life—as she sings of learning to drive, the sweet, simple joy in hanging out with friends leading to that first kiss, first beer and other memories of a childhood now laced with nostalgia's golden glow.
Hailey does appear to be looking back at her younger self through rose coloured glasses, but there are also tinges of sadness, regret and genuine emotion to be found throughout these superbly-written songs. The musical arrangements match the down-home vibe with plenty of steel guitars, fiddles, mandolins and Dobros to be heard in the inviting twangy soundscapes, while Hailey's voice is even-keeled, wistful yet confident, casual yet commanding. With this album, Hailey Whitters is a country performer who has definitely gone up a notch or three in my estimation.
March 2022