Gurf Morlix - Kiss Of The Diamondback
Rootball Records
****1/2
Multi-instrumentalist, producer, singer and songwriter Gurf Morlix has been a major thread in the fabric of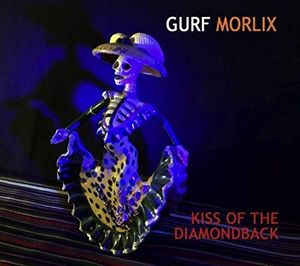 American roots music for more than 30 years. Both in the studio and out on the road, he has worked closely with such artists as Blaze Foley, Lucinda Williams, Ray Wylie Hubbard, Slaid Cleaves, Robert Earl Keen, Buddy and Julie Miller, and Mary Gauthier. In between he has also found the time to record a dozen albums, this latest one recorded in his Austin studio during the pandemic lock down. Loss and a search for meaning have long been the essential subject matter of Americana musical traditions. But with this nine-song collection these themes are probed with an intimacy and musical daring that stretch far beyond any easy references to convention. Apart from one song (If You Were Perfect) which features a string section played by renowned fiddle player Gene Elders and a second with Rick Richards on drums—both recorded just before the pandemic—the whole album was recorded by Gurf in isolation, playing guitar, bass, keyboards and drums.
Not only does Gurf display his immense guitar skills, but these tunes attest to his command of songwriting too, on a bunch of songs rippling with delicate, elusive textures informed by folk, country, blues and a surreal sense of time and place.
Whatever the setting, Gurf's music is rarely less than seductive, the product of both a gifted multi-instrumentalist and restless cultural forager. He doesn't seek to glamorise the everyday tragedy and sadness of the songs, but even in its most downtrodden moments, the album seeks out and gently cradles the real-life people and places that, in rougher hands, would be mined for parables, then tossed aside.
This whole album is a master class in mood sustainability. Aside from Break Even and (arguably) Water Is Rising, there are no particularly upbeat tracks, yet the record fails to fall prey to redundancy. I'd Stop The Rain is a hypnotic ballad that develops into a fine production number that also carries a delicate lyrical message. With guitar lines that walk the short distance between blues and country and funky, heartfelt keyboard lines that call to mind Booker T's most reflective work, the fuzziness over all of Reason To Live lends the feeling of listening to a treasured old soul record.
Gurf is not known for romantic songs, certainly not in the traditional form of love songs that we are familiar with, but with Geniuses and If You Were Perfect, he shows a unique way of being romantic, which is all his very own. The hypnotic and haunting atmosphere of Geniuses might just be the most heartfelt song in Gurf's catalogue, while If You Were Perfect drifts effortlessly along to lovely and simple guitar and strings interplay to create a beautiful ode to a loved one. The passionate We Just Talked isn't a song that overpowers the listener. His vocal is barely above a whisper throughout the track, yet it's at its most powerful and expressive on the album. There's something to be said for pure, unfettered emotion, delivered with dedication and intent but sans the affectation and pretence that often seems to plague those intently aiming for attention.
Right until his keyboard fades out into the static at the end of Is There Anyone Out There, Gurf Morlix creates a cohesive and captivating vibe with KISS OF THE DIAMONDBACK.  He has hand-crafted something beautiful … and he has to take care of it. This takes perseverance, nerves of iron, commitment and doesn't come without built-in desperation and fear. He beckons you to pull up a chair for what it offers in substance. Whether you want to sit and stare with the same appreciative gaze at something beautiful or you're interested in deeper musings and meditations that force you to wrestle toward your better self, know the time invested will yield meaningful personal dividends. 
www.gurfmorlix.com
November 2020