Frank Solivan & Dirty Kitchen - Hold On
Compass Records
****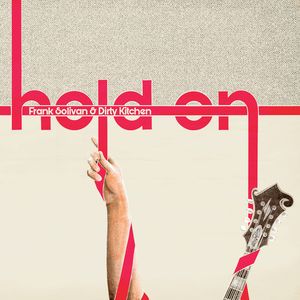 Frank Solivan & Dirty Kitchen have a distinctive traditional-to-contemporary bluegrass sound combined with an openness to new ideas, and a great sense of melody. The songs selected for this, their fifth album, both those penned by Frank and well-chosen covers, borrow cues from the Nitty Gritty Dirt Band, New Grass Revival and other acts bold enough in the 1970s and 1980s to narrow the unnecessary gaps between longhairs, country singers, hardcore bluegrass practitioners, and folk singer-songwriters. Think Laurel Canyon, not Jerusalem Ridge, once the band's multipart harmonies on Goodbye Goodbye and other selections start sounding a lot like the heyday of Crosby, Stills, Nash and Young. Primarily a skilled mandolinist, Frank also plays violin/fiddle and electric guitar. He formed his first band in his early teens. Following a move to Alaska, where he played violin in the Alaska University Symphony Orchestra, he joined the US Navy and played in both a Navy country and bluegrass band. Completing his Navy stint, he formed Dirty Kitchen in 2009, releasing their eponymous album the following year. The band's current line-up is Frank (lead vocals, mandolin), Mike Munford (banjo), Chris Luquette (guitar) and Jeremy Middleton (bass). Their take-no-prisoners fiery playing and compelling material have quickly made them bluegrass favorites with numerous band and individual IBMA awards to their credit plus a Grammy nomination.
I'm Already Gone, a fine example of Frank's writing skills, is a rip-roaring number that's a great choice to kick off the album, with driving mandolin, banjo and guitar and a rushing melody that fits well with the optimistic message of moving on. The title song, co-written by Frank and Jillian Lea, is another up-tempo number with flourishes of banjo. Mandolin and acoustic guitar twang turning a corner down a new boulevard, the song of your thumping heartbeat will assuredly have feet tapping as the infectious chorus instantly takes a hold. They slow things down with the aching melody of Modesto, paying homage to the West Coast town where Frank grew up. This has a straightforward, mid-tempo modern-traditional sound with harmonies on the chorus. Goodbye Goodbye captures the band's penchant for inward-looking, heart-on-your-sleeves California soft-rock to shout from the rooftops and let it settle deep in your chest.
From that point on the group maintain a decided enthusiasm for musical expertise with Scorchin' The Gravy, a panoply of instrumental breaks that allows every player to shine. Frantic mandolin leading into bubbling banjo, vigorous guitar and rock-solid banjo speak of the drive and dexterity that this band has at its command. As the album's sound drifts southward for Queen Of the Mountain and Virginia's For Lovers, they remain atypical bluegrass pickers. They are joined by John Cowan for their revival of the New Grass Revival's Sail To Australia. Frank sings with vulnerable emotion on this easy-flowing ballad with sensitive mandolin adding to the song's delicate touch. Orleans' Sails, a harmony-laden lament, offers evidence enough of their decidedly deft touch as they bring this eclectic album to a close.
September 2022