Fran McGillivray Band - Rain
Joka Records
****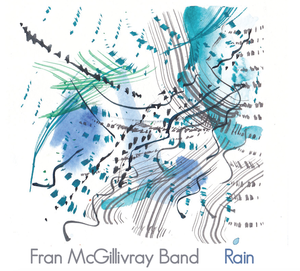 The Fran McGillivray Band is a tight, inventive trio comprising Fran (vocals, bass guitar, keyboards, flute), long-time partner Mike Burke (guitars, mandola, vocals) and Roger Nunn (drums, percussion, vocals). They came together in 2012, but their musical roots can be traced back to the late 1970s when Fran and Mike were playing folk, roots and blues venues including an appearance at the 1977 Cambridge Folk Festival. In the ensuing years the pair continued to play music in various formats including the urban blues outfit So Long Angel, Saints and Sinners and the Spikedrivers Blues Roots Revue, but mainly as a duo until they got back together with Roger Nunn, the drummer with So Long Angel for the current trio format. Over the years they have released several albums and RAIN is the third album by the Fran McGillivray Band. You could say that they play Americana, roots-rock, blues-rock, country-soul, late-night jazz, or soul-styled r&b and you'd be right on all fronts. Even so, a rhythm-forward and rootsy sense of blues is the common thread throughout, the band striking that perfect spot between overdriven and stripped down. The trio blend it all into a warm-yet-sharp set of well-observed tunes, full of layered harmonies and apt musicianship. The ample, solid production catches the ear and demands curiosity and attention, with its intelligent arrangements full of subtleties.
Opening track, The Flood, serves as a fine introduction to both Fran's vocals and the band's sound. Echoes of Bobbie Gentry come floating to the surface in this swirling yet tempered southern gothic epic of the impending doom and destruction if humanity fails to get to grips with climate change. It's the perfect opening tune, a preview of how every tune on the album will unfold spaciously, letting each song take on its own life in its own time. There's a reggae vibe going down in the easy-going rhythm of Come Up Smiling. There's a measured melodic clarity and seamless vocal flow, with tranquil guitar lines and haunting organ way back in the mix to create textures in serene layers. Havana Blues specifically demonstrates Fran's uncanny ability to transport a listener to restless days wandering across the city's hot pavement with a lazy and somewhat hazy jazzy feel.
From Cuba they move north to Canada and the shadowy Toronto Nights. The track floats with clarity and serenity and seems to indicate a lighter, tranquil direction for the trio. Then again, the percussive Jump Back is an exuberant rhythmic number that sets feet a-tapping and hips a-swaying. Sultry drums and a languid bass line contrast well with the busily strummed guitar with Fran's voice bobbing in a roil of acoustic and electric percussive instrumentation. Dressed To Kill opens with an inviting jazzy guitar lick, segueing into a staccato strum that highlights the fluidity of Fran's vocal creating images of a late-night, dimly-lit cellar jazz-club, enticing the listener to sway gently to the hypnotic track. The grungy, slow burning The Struggle is tempered by Fran's coolly commanding vocals tied in with an arrangement of woozy guitar licks and dramatic percussion, mimicking the helpless sensation of battling against greed and inequality. Even though the song is inspired by confusion and difficulties the track breaks brightly into an open space that is celebratory, mirroring the overcoming of such struggles.
The songwriting of Fran and Mike is so powerful and the images so striking. The trio have created a melodious sound built around inventive and probing percussion and distinctive and varied guitar work. They have really come into their own with songs that are catchier, riffs that are sharper and vocals as strong as ever on an album that emphasises song over style and succeeds accordingly.
December 2021