Eilen Jewell - Get Behind The Wheel
Signature Sounds
****1/2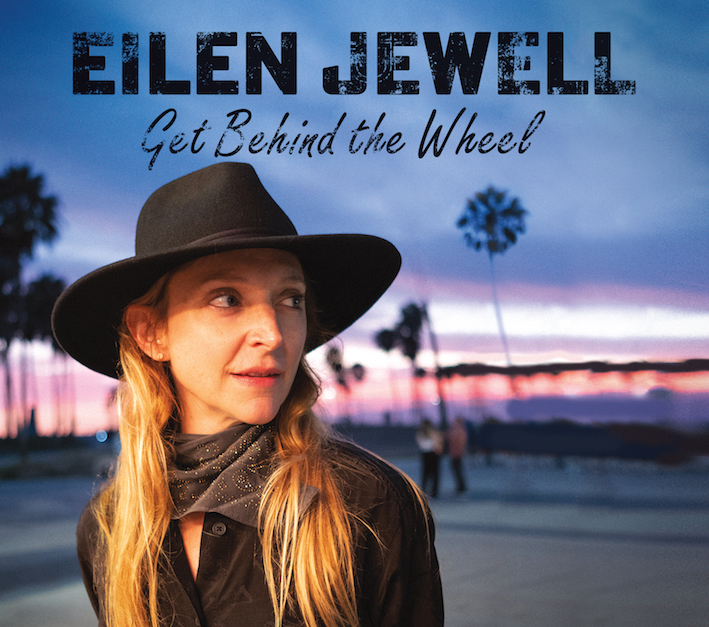 Eilen Jewell is an artist who can be many things at once and can't be shoved into a box or labeled. She is a true artist in every sense of the word! If you enjoy artists that offer something different and demand a little more from a listener, you'll just love Eilen. Over the course of her career, which stretches back almost 20 years, she has inched closer and closer to a fully realised version of herself, getting more comfortable with her voice, her sound, her performance style. Eilen's awareness of knowing 'who she is now' as defined by deeply and deftly navigating her past allows this latest album to stand out. Partly inspired by the fall-out of her divorce from band-mate Jason Peek, this set of self-penned songs is raw, high energy and honest. Eilen Jewell has created a next-level album, largely by understanding that a great breakup record covers the entirety of a relationship: the good, the bad, and the over.  
It's a stunning body of work for many reasons—the way it grapples with trauma, the way it captures her melancholia, the way each hook somehow sounds better than the next, the way she manages to spark something inside the listener with such specific lyrics—but more broadly, it's because every song feels like a cathartic explosion. It's a mix of remembrance, numbness, sadness, regret and, ultimately, recovery and joy. Her strength and swagger are contrasted by sensitivity and sweetness—a range of dimensions that demand and compel a deep dive into her work. As a result, every song rings with a resilience, one that never fails to uplift and enliven the proceedings. Eilen sounds and feels rejuvenated, a fist-pumping testimony to the power of positivity, tenacity, love and, of course, her rock'n'roll heart. Stunning interplay between her words and vocals, her longtime band's music and famed musician/producer Will Kimbrough (various guitars, keyboards, mandolin) creates the album's most magical moments, especially in those special instances where it all melds into one.
An intriguing, fascinating and at times spellbinding listen, Crooked River, reconciling the pain of now with the joy of what is to come, is a hymn of praise to life with all its ups and downs. With sparse instrumentation, Fats Kaplin's restrained weeping pedal steel and Eilen's haunting harmonica, she details the regrets she has in a life full of insecurities. Winnemucca pulls us into a world imbued with a sense of loneliness and longing yet tinged with hopefulness. She draws on her upbringing in the windswept grasslands of Nebraska for this cinematic journey across a Nevada desert. Painting a bluesy dreamscape her voice takes impressive shape with the tonality displayed on the subdued dazzle as the musicians tread the line remarkably well of providing a hazy soundscape that surrounds atmospherically. 
Could You Would You has a strong vintage feel: girl-group pop drama, gingham-checked strum. It's classic pop, but not too polished, maintaining a sweaty frenzy and lived-in charm, with memorable guitar lines and a swirling organ way back in the mix. The next track, Jackie DeShannon's Breakaway, is a lesser-known gem from the 1960s, which was revived by Tracey Ullman in the 1980s. Eilen slows the usually strident song down, giving more emphasis to the heartbreaking lyrics. Unhurried guitar strums swim against her vocals as she manifests what she'll do, but later the track swells with greater distortion, her voice becoming rounder and seductively convincing, as she accepts, she is still hooked into this bad relationship. The Bitter End, which closes the album, sounds like a funeral band dirge, brooding and sinister as she sorrowfully delivers the eulogy. Like an exposed nerve of uncomfortable intimacy Eilen has crafted something that captures the feeling of staring into thick fog, it's dark and overwhelming, your mind has to keep trying to readjust, but it's a hell of a track, the kind you don't soon forget.
May 2023