David Beck's Tejano Weekend - David Beck's Tejano Weekend Vol 2
Self-released
***1/2
A Texan band that shifts nimbly from Tex-Mex to Tejano to Zydeco to country, all the while preserving a sense of musicality that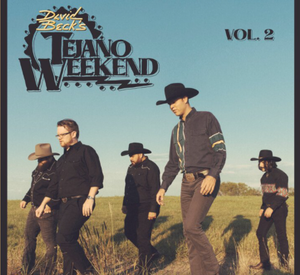 makes the blend alluring rather than mind boggling. Led by bass-playing lead vocalist David Beck, a self-described 'tall, goofy white boy,' the six-piece outfit sing in English a mixture of originals and covers. An almost relentless rhythmic attack from the outset, drop the needle on The Deal Of A Lifetime, and start dancing. A joyous, soulful album, every song celebrates life and love—even when the song recognises the harshness of life and the need to search for happiness (No Liquor Strong Enough)—and Beck's exuberant vocals soar with raw power. Fortunately, they also show willingness to add other elements in the mix as well. A celebratory take on Vince Gill's country-gospel classic Go Rest High On That Mountain, offers opportunity for the group to further show off their skills, while a cover of Billy Joe Shaver's joyously optimistic Live Forever holds up well as compared to the original.
The unabashed enthusiasm echoed in such songs as For Somebody's Sake, A Weight On Her Shoulders and Laugh And Say Goodbye, quickly becomes contagious, a sound indicative of a band that's clearly faithful to the cause. In addition to Beck, there's David Herrera (accordion), Dees Stribling (drums), John Saucedo (guitar), Peter Huysman (keyboards) and Brian Donohoe (horns). They are joined by legendary Tejano accordionist David Lee Garza on the aforementioned The Deal Of A Lifetime and the upbeat Put Me In Jail. The easy groove, and warm, effortless vocal reels you in from the very start. Indeed, it offers indication that for all the finesse demonstrated in their drive and delivery, they haven't neglected the importance of maintaining melodies that can linger with the listener as well.
Musically, they do take a few twists and turns, but the fly in the ointment, which is apparent by the time you're halfway through, is the straight thematic path they are on here. They do make a mark without finding the need to be overly obtrusive or intentionally aggressive. Softer hues are more a part of their sound than the collective frenzy that can often accompany a full-on Tex-Mex assault, and the attention given each individual member of this ensemble finds their music surprisingly satisfying as a result. Indeed, this is both a deft and determined set of songs, a confluence of skill and savvy that makes it their most vital and varied effort yet.
www.davidbeckstejanoweekend.com
October 2021