Daryl Mosley - Small Town Dreamer
Pinecastle Records
*****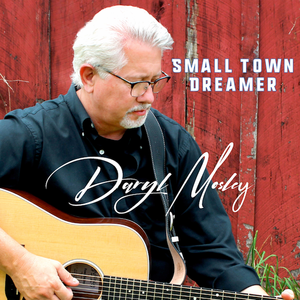 Daryl Mosley's SMALL TOWN DREAMER is quite simply the greatest new reason to proclaim yourself proud to be a lover of country music. Though the album is on a bluegrass label and none of the tracks will ever be played on American mainstream country radio stations, this is a set of country-sensitive tunes replete with airy melodies, accessible imagery and an ultimately triumphant tone. His most down-home record yet, this is what real country music is all about ... hard work, respect and love of family. The dozen songs, all written or co-written by Daryl, point to his devotion to the things country music has, at its essence, been all about—tradition, unabashed optimism, reverence for age-old precepts and the simple joys of home and hearth. This is one of those rare albums where all of the songs are quite superlative. A snapshot of what can happen when an artist allows his or her life to enter the studio; a life that is not defined by the pressures of the industry, but instead is honest about the struggles, and joys, that are always present in our journey. This is a captivating and triumphant work of art from the depth of Daryl Mosley's heart and soul. 
He's still a storyteller, too, armed with autobiographical tunes about life and love in the Bible Belt like the opening Transistor Radio. A gentle reminiscence of childhood days listening to a wide range of music from country through soul, pop and bluegrass and how those influences still ring true today. This is no desperate grab at nostalgia, rather a chronicle of important personal moments re-examined through the lens of time. The tune chugs along with a country-folk tempo, Jaelee Roberts' harmonies are exquisite on this Don Williams-styled song. Tapping into a blue-collar-classic-country ethos, The Last Of His Kind, is a wistful reflection on a free spirit old-school guy who worked hard and helped all those in need, as he set an example for all to follow. Given a smooth bluegrass-flavoured arrangement, every note from every instrument expertly weaves together with pristine, yet organic movement, A bluesy fiddle sets the tone for Bringing Simple Back, a song that falls more squarely in the contemporary country-bluegrass camp, characterised by a chunky rhythm and traditional instrumentation. The lyrics find him preparing to take his doc's advice, leave the rat-race behind and get back to a less stressful life with a return to a more basic lifestyle.
Simplicity is the key to You Are The Reason, a delicate love song overflowing with longing, passion and light. Warm wrap-around-you sounds with that comforting voice enhanced by Jaelee's ethereal harmonies this is a very beautiful record with precise, thoughtful wordplay. I Can't Go Home Anymore is as much about an inner place as it is about a location on the map. It's an examination of how our surroundings shape and reflect us. That is further emphasised in The Way I Was Raised, a driving, contemporary bluegrass song with a bit of an autobiographical flavour to it about growing up straight and true. It's one of those time-honoured philosophical country advice songs. The plaintive Hillbilly Dust is undeniably sad yet also affirming when considered in its entirety. A lonesome fiddle paints a practically tangible backdrop of a rural life thick with close family values as they all say farewell to a departed hard-working farmer. Daryl also features a couple of gospel songs, both of which have an autobiographical feel to them. Mama's Bible  is a peaceful remembrance of his childhood and his mother, rekindled by notes left in her much loved book that brought so much comfort throughout her life. More of a contemporary Christian-country sound than gospel, but it's a lovely and powerful song. He's With Me is a more straightforward gospel tune, a song of earthly contentment providing the kind of balm our hearts surely need right now. Jaelee Roberts and Jeanette Williams sing the exquisite harmony vocals.
November 2021