Darden Smith - Western Skies
Self-released
****1/2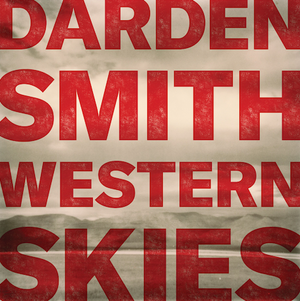 A singular musician, no one else makes music like Darden Smith. His voice has been a source of real comfort for me for more than 30 years now and this latest record is up there with the best that he's created. As a songwriter, he's still a great talent who always finds some home truth in his lyrics and he hasn't forgotten how to make the emotions of his songs clear and thoroughly heartfelt. This deceptive studio vet knows how to make all the right moves at all the right times to craft a delightfully compelling set that is a must for low key, lo fi times when the world's noise just gets to be too much. Atmospheric songwriting, this is a beautiful, sighing return, as he sings and reflects wistfully with a collection that is hypnotic … a spell you don't want broken. A dream-like state washes over the whole thing, blurring the lines between real and imagined stories rich in imagery. Powerful music for open roads and endless daydreaming; once it's turned on, time is suspended by the limitless layers of unbridled, eclectic sound. Immediately mesmerizing, yet somehow simultaneously warm and stark, informed by, but not restricted by time spent alone. An artistic triumph, the kind worth regarding as a creative masterwork among any record collection.
Surprisingly, following his 2017 album EVERYTHING, Darden had no thoughts of making another album. He believed that after 15 albums he'd done and said everything he needed to in the recording studios. Over the course of his career Darden has written a symphony, scored works for theatre and dance, published a book on creativity, exhibited works of visual art and co-founded the Songwriting for Soldiers charity programme. It's his involvement with that programme that led to the creation of WESTERN SKIES. Due to the pandemic, flying from Austin to Arizona for writing projects with veterans became too risky, so he began making regular solo drives across nearly 1,000 miles of flatlands and desert. It was during these lengthy drives that the ideas and themes of many of the songs came into his thoughts. He spent time writing and recording demos of around 25 songs, and then with a clear vision of the music and album he wanted to create, he assembled an all-star band of session players and working with co-producers Michael Ramos and Stewart Lerman recorded the basic tracks over a few days in Austin. Darden then added his own vocal harmonies and those of acclaimed singer-songwriter James House. The result is eleven intimate and immediate tracks; music that will be just as relevant decades from now as it is today. Darden has also produced a book of photography, lyrics and essays, also titled Western Skies, full of images and words inspired by the West Texas landscape.
Darden plays more keyboards on this album than his previous recordings. This becomes apparent from the outset with the sparkling piano notes of Miles Between, with a Bruce Hornsby-like unspooling that leads into his vocal, soundtracking the space that can develop in a relationship and yet, just like an empty desert, there is so much happening all around to fill that empty space. With a subtle driving rhythm, this is one of those songs to wind the window down and allow the wind to drive the cobwebs of everyday life and worries as far away as possible.  Darden's signature dreamy, pastoral tone overlaps on the gorgeous Western Skies, as his gentle vocal rides on a lush blanket of Ricky Ray Jackson's ethereal steel guitar. There's a late-night jazzy vibe to the glistening I Can't Explain, painting a portrait of a couple smooching aimlessly around a darkened and intimate nightclub. In contrast, there's a strident vibrancy to Not Tomorrow Yet, a somewhat dark outlook on life's struggles, but with an optimism of hope for the future, despite the high price of it all.
There's an easy-going gait to I Don't Want To Dream Anymore, with the distinctive harmonies of James House adding to the sweeping, emotional and heart-pounding drama as the song unfolds. He closes with the stark, yet bewitching Hummingbird. His plaintive, almost pleading vocal, shows Darden at his most vulnerable—and most effective—and it's the perfect way to close this set of vivid imagery and expansive song topics.
March 2022