Daniel Crabtree - The Way I See It
Codell Records
****1/2
Daniel Crabtree was raised on traditional country and gospel music. For many years he has been a pivotal member of the Light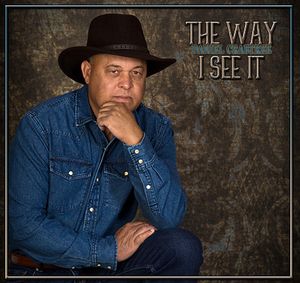 Chapel Boys and performing regularly at the local Baptist church in Greenbrier, Tennessee. From a young age he has dabbled in songwriting and he has written all 13 songs on this, his fourth album. He captures raw emotions in bold strokes as he matches engrossing stories with attractive melodies that resonate deeply and connect with our shared humanity. Like his records that have come before, a subtle thread of faith is strewn throughout, placing Daniel's poetry in an often divine, always complex space. That doesn't necessarily make this a gospel album in the strictest sense, but it does underscore the fact that a sacred sensibility is an inherent part of his motif. The music takes on an easy and effortless flow and though it's Daniel's name alone on the marquee the ensemble work is clear and cohesive throughout. He is accompanied by some of bluegrass music's finest players including Scott Vestal (banjo), Cody Kilby (guitar), Harry Clark (mandolin), Gaven Largent (Dobro), Patrick McAvinue (fiddle) and Dave Roe and Evan Winsor sharing the upright bass honours. The sensitive production is by Donna Ulisse. She also shares background vocals with husband Rick Stanley and Aaron McCune to create the kinds of musical spaces in which something magical is conjured from the repetitive rhythms of the rural and the familiar.
Whether it's infectious offerings like Sally Sunday or the emotive expression found in Till We Meet Again, it is the combination of honesty and earnestness that ensures a common bond. That kind of sincere honesty has become an expectation with Daniel's art and it shines like never before on No More Battlefields which turns the spotlight on the futility of war. On The Run is a fast-moving bluegrass number about the frenetic life of an escaped prisoner travelling home to his dying mother.
The instrumentation on Three Feet Away is smooth, mountain country style supporting the story of the unlucky gold-digger who was just a yard away from striking the mother lode when he gave up and sold his claim to a lucky chancer.
Cotton Pickin' Town, Life Of A Railroad Man and Hobo King sound like they were borne from the hard scrabble lives of a century ago with echoes of Jimmie Rodgers, the Carters and the Delmores. Likewise the lilting Master of the Wind shares a sound and sensitivity that suggests Daniel Crabtree's not only a master of form, but of finesse as well.
Even when he gives gospel a go, as with the closing On Angel Wings I'll Fly and Give It To God, the music still comes across with an easy affability. This whole album is an unalloyed joy and a masterful example of classic rustic songcraft and accomplished musical performance.
March 2021