Dan Weber - The Way The River Goes
Self-released
****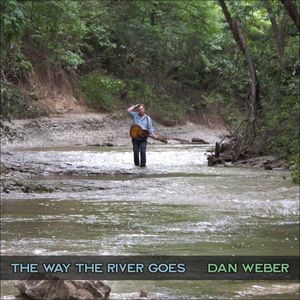 Dan Weber is a mesmerising Texas-based singer-songwriter whose latest soft powerful set of songs is about gonna-come changes and moving on. Ultimately, I am convinced that THE WAY THE RIVER GOES functions just as vitally as a question as it does a declaration, as does his entire body of work, and it is that very duality, that sense of both coming and going, that makes it so timelessly, endlessly vibrant. These beautifully captivating songs carry the musical DNA of his heroes, such as Guy Clark and Gordon Lightfoot, but are imbued with his own themes of change, reckoning and reconciliation and sung with a direct, soulful connection. This is an album of personal emotions, which resonates loudly in this period of universal ones. Sometimes, a project is just perfect for the times. This collection, in a time of hardship and loss, hope and redemption, is just the right project for today. The 14 songs hit all of the emotional touchstones. Great music does that.
Dan's lyrics resonate with the depth and sophistication of the folk tradition; the sound is more contemporary, the arrangements billow with bass and strident drums, inventive organ, pedal steel, banjo, accordion and harmonies. He has assembled a group of musicians to create a sonic masterpiece. Enlisting the talents of Rob 'Berto' Stroup (drums, percussion, organ, electric guitar, harmony vocals) and Michael Henchman (5-string electric bass) for the Truth or Consequence rhythm section with socially-distanced guests including Paul Brainard (electric guitar, pedal steel), Tony Furtado (banjo, dojo), Kathryn Claire (fiddle), Jenny Conlee-Drizos (accordion), Tim Connell (mandolin) and David Lipkind (harmonica), this album is soaked with dreamy guitar riffs, subtle drumming and bass and gripping vocals. Dan is a colourful storyteller and warm, engaging performer. He brings his comforting baritone to a surprisingly uplifting set of songs that touch on breaking up (The Ghosts of Wichita), his divorce and his father's death (Whatcha Gonna Do) and his own role as a travelling musician (Call It A Night). He captures the complexity of it all—of love, of longing, of insecurity, of anxiety, of life. Though his songs may be delicate in moments or even tough to grasp upon first listen at times, they are rarely, if ever, fleeting thoughts. And that's the beauty of his music.
The Way The River Goes flows with a casual rhythm, as waves of neat guitar lines surround his vocal, he reflects from far away on a life growing up around a river and the memories he carries with him. The rolling melody of While You Were Sleeping captures the feeling of watching the miles fly by, with a haunting soundscape of fiddle, Dobro and mandolin. Never is a little on the downside
as he sings passionately about taking on life's uncertainties with simple acoustic accompaniment of banjo and subtle percussion. The fiddle driven Somewhere Down The Line implores us to make the best of things while we can and Surrender, with plaintive steel guitar, offers advice to the broken-hearted with a lonesome country vibe that is strangely comforting. In the scampering You Make Me Wanna Dance, he utilises a Tex-Mex arrangement with joyful accordion and fiddle to conjure up a Saturday night sawdust floor. The hook is ebullient, with a bounce that occurs naturally with this song, making it quite irresistible.
February 2022