Dailey & Vincent - Let's Sing Some Country
BMG Records
****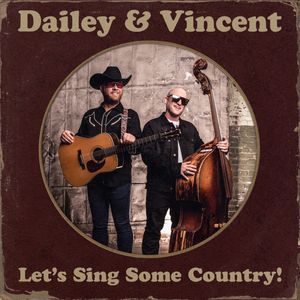 Since coming together in 2008, Jamie Dailey and Darrin Vincent have emerged as one of the most successful duos in bluegrass music. Though they have individually served time playing in traditional bluegrass outfits—Jamie nine years as lead singer for Doyle Lawson & Quick Silver and Darrin with Ricky Skaggs & Kentucky Thunder—over their previous nine albums they have blended down-home bluegrass with an exciting contemporary sound, so it should come as no surprise to see them stepping out to embrace country music. They do an admirable job of reworking and presenting songs from the 1970s, 1980s through to the 2000s, delivering engaging and enticing versions of songs previously done by the Oak Ridge Boys, Steve Earle, Vince Gill and Karen Staley and even a foray into more prominent rockier territory with Message From The Farm, with echoes of Brooks & Dunn coming through. Aside from wishing they had tried tunes from a few other acts of the period (especially Vern Gosdin or Alabama), they display a fondness for the era's requisite harmonies and reverence for the tunes that doesn't prevent them from putting their own stamp on the music through intricate treatments and excellent performances. Ultimately, the album reflects both the sum of their individual influences—among them, honky-tonk, country-rock, country balladry and neo-traditionalism—as well as a willingness to breach certain boundaries rather than simply limit their possibilities. In a larger sense, it represents the vibe and motivation that drives this pair as they continue their transition from a traditional template towards a more progressive posture. The originality and sheer energy of this genre-bending ensemble serves as a welcome wake up call for those who experience it.
Veteran Nashville producer Paul Worley has brought together a talented group of musicians to flesh out the musical arrangements that sizzle and crackle with unbridled energy. Jamie handles most of the lead vocals and as with the best country singers, he knows his way around phrasing, and he knows where to modulate to elevate the power of a phrase and where to pull back on a note to touch the heart. He uses it to hit all the right places, whether he's delivering his passion for his lover in Closer To You or reflecting on the delights of the Volunteer State in Karen Staley's I'll Leave My Heart In Tennessee. The harmonies are vibrant and exact on Those Memories Of You, with Jamie's soulful vocal deep and sometimes rolling into a gospel feel to remind us that church music runs deep in his soul.
Obvious fans of Vince Gill, they include three of his songs and comparisons are inevitable, especially for me, as I'm a huge Vince fan. One of the oldest songs on the album is Colder Than Winter, a classic heartbreaker that Vince included on his debut RCA album in 1985. Vince's plaintive version featured the wistful whine of JayDee Maness's pedal steel and a string section arranged by Edgar Meyer. This new rendition also features strings with acoustic guitar running through it as Jamie's voice rises and falls with heartfelt emotion. If I Die A-Drinkin', a more recent Vince song, co-written with the underrated Ashley Monroe, is a steel-driven tear-jerker. At first listen it appears to be a simple drinkin' song, but then it moves smoothly from drinkin' and cheatin' to 'if I die a singer, the last song I'll ever sing is When the Saints Go Marching In.' Deeply moving and an incredible performance. The easy gait of Young Man's Town embraces the problem we all face of having to move aside for the youngsters following along in our footsteps. A sly dig, I think, at the veteran country stars (mainly), who were complaining in the late 1990s about no longer being played on the radio, pushed aside by younger upstarts. It's sung straight, with no sign of bitterness, just acceptance of the way of the world.
Another influence that comes through strongly is the Oak Ridge Boys, not only by the inclusion of Digger A Little Deeper In the Well, a gospel-flavoured up-tempo song that the Oaks recorded in 1979, but also Feels Like That Again, which is a dead ringer for the Oaks. From the opening chorus borrowed from Elvira to the upbeat gospel message, this would've been so perfect for the Oaks at their peak in the 1980s.  Featuring a notable interplay between lead and backup vocals as well as the most melodic chorus and exhilarating hook on the album. From bluesy guitars that storm and shimmer to unison vocals that build to a massive group sing-along, this is simply stunning.
August 2022