Dirt Rock Empire
****1/2
People often tell me how useless it is to try to write about music. About the best a writer can do for a musician is to mention their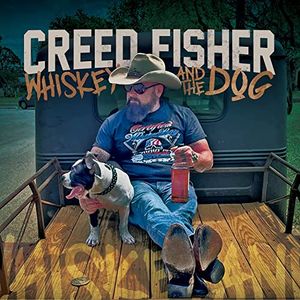 name, loudly and incessantly, until people get annoyed and decide to find out for themselves. Well, that may well be the case, but the feedback I receive from my reviews tells me a different story, so I'd like to bring to your attention Texas hillbilly singer-songwriter Creed Fisher. He's long been established on the fringes of country with a devoted following that flocks to his live shows, but mainstream acceptance has always eluded him. Sadly, this album is unlikely to change the situation, as his kind of gritty, real-life country is somewhat alien to American country radio playlists. A raspy-throated, confident-beyond-his-years songwriter channeling Hank Williams via a sombre goth-country aesthetic, Creed serves up cactus-chewing, smoke-signaled country music that perpetually rolls towards sundown. Country poetry swirled in honky-tonk postmodernism, there are fictional stories about small town life and road trips, and truthful songs about heartache, late nights at the bar, hardships, life as a touring musician and reaching a crossroads in your life. It's the type of record where you don't know what to expect next, from song to song. It doesn't pretend the world is a party or that we can change everything by holding hands and thinking sweet thoughts. It offers solace to those of us who can still find solace in something as emotional and passionate as country music.
From the baritone guitar riffs to the deep-seated vocals, Creed Fisher rides low in the saddle on the opening High On the Bottle, mixing the smooth rumble of Randy Travis' 1980s classics with a raw, honest performance that does justice to his outlaw roots. There's something painfully nostalgic about This Town as seen through the eyes of this troubadour. A wave of defiant vocals lift an insistent anthem to never giving up in the face of despair that comes with a town going under the waters of indifference and the crashing waves of hard times. Similarly Find My Way Back Home is a very personal story of grappling with what life can throw your way, yet finding ways to cope, recover and ultimately triumph over great difficulties. A quite heartwarming, passionately sculptured, storytelling work of music art delivered with a voice as raw as the prairie wind. A minor-key drinking song that doubles as a breakup ballad, I'm Crazy And You're Gone finds him in a traditional mood, raising a toast to the one who got away—or, more accurately, was pushed by his boozy habits—over pedal steel guitar, sawing fiddle and a moody melody.
He maintains the barroom stance with Honkey Tonk Drankin' a peppy two-steppin' kinda number with some musings on life and human nature thrown in for good measure. He shows off his goofball humour and of course a big helping of anti-PC, with Girls With Big Titties, which is notable more for the solid country arrangement than the eye-catching chorus. The fiddle-driven title song clerihews to the dangers of domestic bliss, featuring appropriately defeated and defiant delivery as he offers everything except the whisky and the dog to his departing wife. He stands up for the blue-collar workers with the driving Hundred Dollars Short, a full-throttle celebration of the unifying power of music and booze with its greasy pedal steel line and groove that's equal parts swagger and stagger. The song that sums up Creed Fisher better than any words that I might write, is Jesus, Haggard and Jones. Potent lyrics with a relevant message of where he comes from and where he's heading, are thoughtfully delivered by a ruminative and sincere guy with an impeccable country arrangement that would have both No Show and the Hag smiling broadly.
October 2021