Craig Campbell - The Lost Files: Exhibit A
Grindstone Recordings
****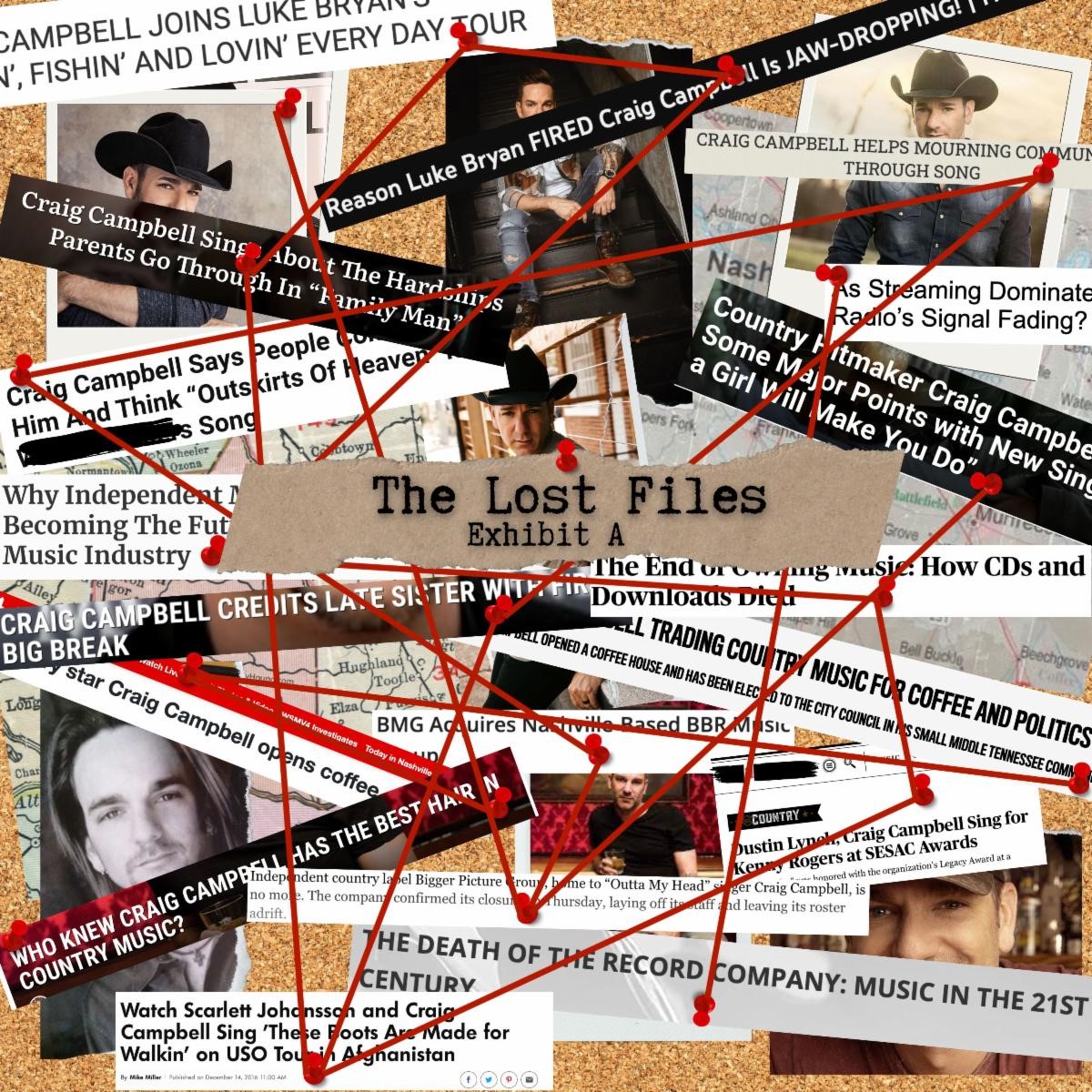 THE LOST FILES, released on Craig Campbell's own label, Grindstone Recordings, shows us a mature artist. Stronger, more dynamic vocals, intelligent and rich narratives, and bigger, more trad-country arrangements are just some of the ways the Georgia-born singer is letting us know he's grown up a bit in the last few years. One of the most noticeable aspects of Craig's evolution as an artist, though, is his confidence, which feels elevated almost to the point of swagger on this 16-track collection. This suits him. While his natural vocal register is still on the smoother side, we hear a complete lack of fear or hesitation in his singing this time around. An album that is a rare delight in a crowded marketplace, the mix of classic country music and modern composition in ways that are really swooningly rendered and out of time, is a perfect bridge between tradition and the future. He is a fine songwriter, and he's contributed several good ones here, having co-written eleven songs. The honesty and good intent encompassing the whole of this set elevates them to a rarified position where endearing melodies and words of affirmation and integrity find a common bond, and ought to be applauded. His most honest music yet, Craig never disappoints, as he takes his musical game to a new level. It's the culmination of a dozen years of genre experiments, while chasing commercial success with several different label affiliations, and an artist freely following his every whim.
As the title suggests, these songs and recordings are taken from various sessions over the past five years, since the release of his SEE YOU TRY EP for Red Bow Records in 2018. The hammering twang of guitars, sawing fiddles and pedal steel, makes it feel like a dancing record, but if you listen closely, you'll also hear sensitive tales of heartache and Craig's own sweet memories of small-town, rural Georgia. He delivers a gut punch with the defiant Lot To Live Up To, as he reminisces back to his early days of starting out as a budding country singer in Lyons, Georgia. He pays tribute to the singers that influenced him, Keith Whitley, Waylon and Willie, and especially Travis Tritt, who joins him on this rockin' country tune. Driven by electric guitars and pounding bass, Craig's organic production makes the most of Johnny's Cash. His powerful voice, gritty and soulful one moment, then effortlessly spiraling up into feverish crescendos the next, carries this gutsy tale of family secrets and a poor country boy's unexpected inheritance. That's What A Song'll Do is a taut, punchy, party-ready soundtrack to how crucial music can be in our lives, from romantic entanglements to roof-raising   church services. 
Although Craig's fluent approach mostly maintains its unerring energy throughout this set, there are more measured moments as well. It's About Time allows him to explore the country crooner territory a bit more. His melodic voice elevates the lyrics, drawing the listener into his narrative of intimate memories and romantic feelings. Listeners should also likely enjoy Sounds Like A Small Town, a swirling ballad about growing up in the country. This does indeed sound like a forgotten soft country gem from the early 1990s; a gentle earworm with swooning pedal steel that will make you want to sway hand-in-hand with a loved one. It's not all smooth romance here, though. In their Church Clothes, Craig and his wife, Mindy Ellis Campbell, each sing their own verses about the realities of a disintegrating marriage, before joining forces during the chorus. Playing out the roles of a couple going through the motions of domestic bliss outside the home, whilst inside they live in a hostile environment of hardly speaking and sleeping separately. It's a heartbreaking story, and in the hands of most people it would be devastating, but here it's almost … beautiful. 
God And The Ground is a sad ballad of heartbreak and nostalgia, with Craig using his religious upbringing to great effect, with a voice that sounds simultaneously fragile and utterly convinced of its emotional power. The lyric tells of the old farmer missing his recently departed wife and finding it tough to move on. Craig shines with a voice that has a sweetness which cuts through the song's darkest moments. Elsewhere on THE LOST FILES, he gives us compelling stories he's compiled from his travels, set to vibrant country melodies. That, then, is the secret to Craig Campbell's uniqueness, his ability to find common ground between traditional country, and a more modern mainstream mantra. 
February 2023