Charley Crockett - The Man From Waco
Son of Davy/Thirty Tigers
****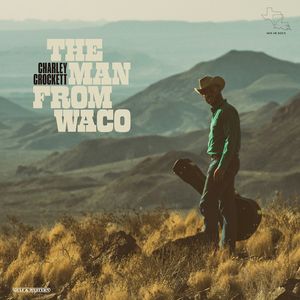 For the last few years Charley Crockett has looked as though he might break through in a big way, but although respected as a good writer and stylish singer, and universal acclaim for his recordings, widespread commercial success and public recognition has somewhat eluded him. In short, he remains a cult figure rather than a major star … and that's just the way he likes it. On this, his eleventh album in seven years, he sounds to be enjoying himself, even managing a bit of a self-satisfied conveyance. Taken as a whole, the recording confers the position of a musician resigned to covering old ground, but still happy enough to have something to push against. There is an unexpected calmness to the soundscape. Perhaps it's because he recorded live in the studio direct to tape with his longtime band the Blue Drifters, one of country's coolest, most versatile outfits, with the added input of multi-instrumentalist Anthony Farrell. Their sound is as sleek as ever. The record was recorded in just a few days at producer Bruce Robison's studio, The Bunker, just outside of Austin. That fact alone testifies to how strong they are live.
There are some very captivating things to hear on this record, but there also are too many undistinguished sections that hardly seem worth the trouble of transporting to the studio. Maybe it's because it's his eleventh studio album and he feels less pressure to prove himself inside the studio. Still, the album has its sensitive, gifted moments, and Charley is at his best on tunes such as July Jackson, where one is grabbed emotionally by the pure energy and simplicity of the vocals. The album is book-ended by The Man From Waco Theme, in which the band are just doodling to create a musical interlude that creates a vivid picture of an old western saloon at the turn of the 19th century, glasses clinking and a guy tinkling along on an old Joanna.
Charley emphasises his burly, commanding voice and eloquent original material, populating the album with catchy tracks that have the zing of classic country music. There's a western theme running through some of the songs, such as The Time Of The Cottonwood Trees, with that easy-going feel that typifies so much of his music, nicely setting off his deep, familiar voice and Cowboy Candy, which features some wild yodelling yip-yippy notes that are reminiscent of Tex Ritter's Rye Whiskey. There's a 1960s pop vibe to Just Like Honey, reminding me of Jack Scott and Sandford Clark on this break-up song. The catchy phrasing of Just Like A Clown, the easy loping Trinity River and the funky yarn of Tom Turkey, are all indicative of his style, a heady blend of retro aesthetics and magical songwriting that immediately carries you off somewhere else entirely. The title track is a brooding murder ballad, taken at a funereal pace with his rich baritone creating a plaintive, dark and menacing scenario until horns come in to add some colour.
An album of bare songs featuring his flinty vocals and thoughtful arrangements, showcases a singer, songwriter, and bandleader in full command of his muse. A bit like a Texas-style Leonard Cohen, his guitar strums easily along with his lyrics about time, place, and the harsher things in life.
September 2022