Missing Piece Records
****1/3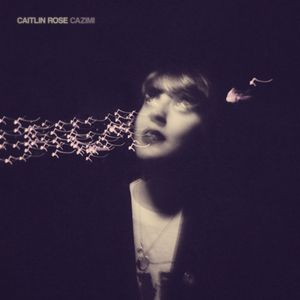 It's been more than nine years since Nashville-based singer-songwriter Caitlin Rose's sophomore album, THE STAND-IN was released to widespread critical acclaim. It's a thorny problem, outdoing well-realised work, but typically third albums push boundaries and with CAZIMI, Caitlin is fully out of her shell, discovering the range that was there all along, waiting to be found. The full, varied arrangements, create a big, steely, momentous-feeling sound that's much more pop-aware than anything else she's done. The expansive music does nothing to dilute her lyrical directness. Singular is too inadequate a word to describe Caitlin. Her mixture of tempo, melody, and imagery would be enough to make even the most travelled purveyor of singer-songwriters sit up and take notice. The buoyancy coursing through her gracefully woven, pop-minded arrangements signal that she's more interested in finding moments of empathy and hope in the wake of disappointments. Her vivid vignettes are soaked in regret, self-loathing, self-destruction, envy, bad habits, romantic missteps, humour and finally, joy, recounting the rocky journey of a restless soul constantly seeking more. In short,  Caitlin Rose's latest album is her most compelling to date.
Driven by a steady pulse that gradually ramps up the tension, she surveys the wreckage of an unhealthy relationship in Black Obsidian, trying and failing to untangle how she could and should have done things differently. There are swirls of glockenspiel and dramatic baritone guitar that weave in and out of the pronounced drums, and Caitlin's voice appears and reclines, supplementing the punchiness of the track as it grows into a far fuller second half. Her delivery is somewhat wearisome on Getting It Right but shines with confidence and strength as she seeks ways of improving herself. With co-writer Courtney Marie Andrews adding vocal harmonies, this is idealistic yet clear-eyed, reassuring, yet invigorating, as she sets the stage for better days to come. There's a self-assured approach to the sassy Nobody's Sweetheart, a warbling mix of layered vocals and ambient noise—perhaps synth and a little pedal steel? the song transforms into a percussion-heavy celebration of allowing oneself to feel that most powerful of feelings of being invincible.
There are literal upbeat numbers, like How Far Away, which whirls in a circling, spinning dance as the song rockets off on skittering snare shots, floats along on organ and synth, and is propelled by cascading rhythm guitar and Caitlin's anxious   questioning where her lover is and how to reconnect. With Only Lies, a similarly rhythmic number, she confronts all that is wrong with relationships that are built on fragile foundations. She slows it down for the tender All Right (Baby's Got A Way) a contemplative break-up opus that finds her in her element, telling a lonesome tale about moving on. Undeniably beautiful, it has the capability to stir up such a wide range of emotions, both good and bad. CAZIMI cements Caitlin Rose as an artist comfortable in the in-between: smooth enough for the radio, but with a sense of craftsmanship that lands her squarely among some of the greats.
November 2022