Brooke Eden - Choosing You
BBR Music Group/BMG
***1/2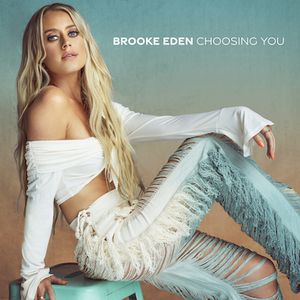 Florida-born Brooke Eden has been in Nashville for more than ten years, initially singing in the Lower Broadway bars, whilst honing her songwriting skills. The now talented songwriter is also the possessor of a powerfully distinctive voice, yet despite plaudits within the business and releasing a series of EPs and singles, the nearest she's come to tasting success has been with the singles Daddy's Money (2016) and Act Like You Don't (2017), both of which barely scraped into the country top 50. Having signed to BBR and with this new 5-track EP, Brooke Eden could be poised to finally make that long-awaited breakthrough that she so richly deserves. Original songs that borrow from a well-worn template, but substitute wonderful shimmering melodies that provide an effusive, effervescent glow, she boldly weaves interlocking personal song stories tracing a life passage through break-up, healing, love, loss and happiness. Consider this effort both stoic and celebratory, and indeed, quite an accomplishment. She's not only got a gift for detail, but an evocative and expressive way of conveying the sincerest sentiments as well. Brooke Eden has pipes I'd stack up against any pop-country singer out there. She takes songs that are already well-constructed—great melodies, slick production and steady songwriting—and elevates them to another level.
Wandering acoustic guitar sets the scene for Knock, a deeply moving piece of music. Euphonic instrumentation meets the piercing reverberating vocals of joy, as Brooke pours her heart out into the emotional lyrics. Her description of exorcising a break-up by dancing through a brighter future is all there in Left You For Me.  She exudes confidence as she's unafraid to get self-referential as she steadily showcases honest lyricism with vibrant, upbeat undertones that are made for each other. Comeback Love mixes buoyant production and a sing-along chorus which is slightly at odds with the forlorn heartbreak detailed in the lyric. Keenly mixing joyous handclaps and strident electric guitar with the more sobering direct lyricism that says no matter how far you're apart, you're still together.
Heartless is brash and brazen, bittersweet and tender as she disarmingly delves deeper into a romantic dilemma. The thrilling rush of a woman taking stock of herself is bolstered by the creaseless harmonies and driving full tilt of the synth-soaked tune. Brooke's passionate vocal swagger comes to the fore on the uplifting Off The Ground. Her bright and powerful voice juicily wraps itself around rich, lyrical, wild, spiritual imagery. That energy is impressive, but the song is best defined by the depth of emotion she invests in the effusive lyrics. Brooke Eden's songs just have a natural kick to them, as she tackles the romantic anxieties of being an independent woman in 2022 head-on.
July 2022