Brock Gonyea - Where My Heart Is
Big Machine Records
*****
Seemingly out of nowhere comes the best damn country record I've heard on a major label in what seems like decades. Teeming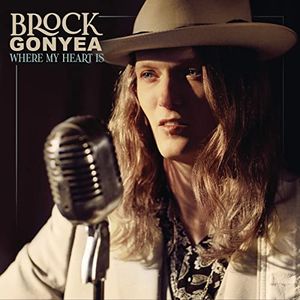 with real life, this debut EP takes an exhilarating trip through traditional country, honky-tonk and rockabilly, marked by newcomer Brock Gonyea's dynamic vocals and soul-stirring lyricism.  Evoking images of a 1950s era saw-dust covered hardwood floor made for two-stepping or a backwoods Saturday night barn dance, this is old-school country music given a modern studio sound without all the hiss and crackles of those old 45s. Like downhome hillbilly music at its most felt, it communicates the sense that it is the sound of what it is. Next to it, the merely fashionable can seem merely futile. In a modern context, it sounds like a youngster open to embracing his grandparents' record collections while maneuvering a genre you never hear on oldies and classic country radio. The lanky upstate New Yorker doesn't seem to care much about being one of the 'cool guys.' With an impeccable distillation of influences, he has melded together an elegant affair that evokes shades of Webb Pierce, Hank Williams, Faron Young and Ray Price into a fresh-sounding country vintage. His songs possess a keen intelligence and hang about in your head long after they've finished. Their truths are the eternal, sometimes scary human ones, impervious to mindless fads or critical enthusiasms or market shares or phony comforts. Grab a beer, have a seat or better still, a partner, and two-step your way into hillbilly heaven.
The only non-original is the opening All Night Long. The publicity blurb informs us that the singer discovered this previously unrecorded Webb Pierce song whilst going through the Sony/Tree publishing vaults. As soon as the song began, I had a vague recollection that I'd heard it before. A quick scan of my large record collection and there it was … written jointly by Pierce and Mel Tillis, Webb had recorded the song in May 1959 and included it on his 1960 WALKING THE STREETS Decca LP. This juke-box house burner propulsively marches down the road, fueled by driving guitars and Brock's commanding vocals. It's as intoxicating and thrilling as the feeling of wearing a leather jacket and sunglasses for the first time, despite the heart-breaking lyrics. I love the way My World Turned To Silver builds from simplicity to epic Orbinson-esque grandeur. Catchy pedal steel and keyboards propel the affectionate lyrics and Brock's vocals in the vivacious nervous energy that drives the need to assure his loved one that she's the one.
Cheatin' songs are not as prevalent in country music these days, despite the fact that in real life increasingly more marriage break-ups are caused by a partner's infidelity. The eternal triangle of Pretending It's Me, is as chilling as some of Hank Williams' chilliest, and is sung and arranged accordingly blue. Listen closely to discover the slight waver in Brock's vocals. From its rhyme scheme to its gentle shuffle, from its melody to its concise, emotionally broken hook, Lovin' You evokes Hank and Faron. This dynamic comes close to literal in the bluesy lyrics, in which his effortlessly acrobatic vocals mirror the weeping steel guitar line. When he leans into his natural talents as he does during the title song, he's without comparison. A fond remembrance of growing up in a musical family of lumberjacks in the Adirondacks. Brock's father, uncle, grandfather and great-grandfather all sang traditional country music and from a young age he would join in at family get-togethers and local social events. It's vibrant up-tempo country with a post rockabilly edge, a big foot rustic stomp with juicy juke-joint guitar licks dripping from the walls.      
This all too-brief introductory EP shows us that Brock Gonyea's wiry tenor trill is equally at home with tremulous rockabilly swagger as with a two-step croon, though his restless spirit seems most at ease when the tempos race and the guitars crackle. The guy has genuine country music roots and talent that most of today's major country stars would give their right arms for. The big question is why did Scott Borchetta and Big Machine sign him? If they just throw his music to the wall and hope it sticks, then he stands little chance of realising his potential. Worse still, is if they treat him as a novelty act, a one-off experiment to see what happens. If that's the marketing plan, then they will be doing the guy a great disservice as he is not only genuinely passionate about this music, but hugely talented. He could lead the charge to a return of a new neo-traditionalist movement, in much the same way that Steve Earle, Dwight Yoakam and Ricky Skaggs did back in the mid-1980s, that is if mainstream country radio open their ears and embrace this music. I feel it's all down to how aggressive and passionate Big Machine prove to be about Brock Gonyea and his music. Sign me up for the fan club!
April 2021