Billy Strings - Me/and/Dad
Rounder Records
****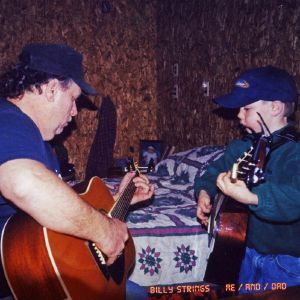 From the outset I have to admit to not being a huge fan of Billy Strings. Make no mistake, I respect his superb musicianship and applaud the numerous awards that he's picked up in recent years. But his reputation as a flashy acoustic guitar shredder leaves me cold. Technique over 'feel' has never appealed to me and his rock-styled stage theatrics don't impress me much! Having said that, this latest album, in which he shares the spotlight with Terry Barber, his father and mentor, is rather good and one that I'm sure to return to again and again. The 14 tracks are all of vintage variety, picked up from such diverse sources as the Carter Family, George Jones, Hank Thompson, Flatt & Scruggs, Doc Watson and Mel Tillis. Billy and his father would often sing and play these songs together as Billy was growing up in the family homes in Kentucky and Michigan. Despite the generation gap, they find common ground through a tack that falls midway between archival and contemporary. That said, it really matters very little where the songs originate. It's the performance that counts, and each and every one of these versions brim over with passion, emotion and pure love for the music … and you really can't ask for better than that.
They open on a stirring note with the traditional Long Journey Home. They share the vocals on this banjo-guitar-driven journey that incorporates plenty of bluesy licks and searing solos. Recorded in Nashville, they are accompanied by an all-star band comprising Mike Bub (bass), Ron McCoury (mandolin), Rob McCoury (banjo) and Michael Cleveland (fiddle) plus guest appearances by Jerry Douglas (Dobro) and Jason Cater (fiddle). As you might expect with this line-up, it's a crackerjack of a bluegrass number. Songs like Wandering Boy and Little Cabin Home On The Hill bring something of country music's rich heritage to a modern country/bluegrass audience. George Jones' devastating masterpiece, Life To Go reveals a heart drowning in despair. One of the legendary singer's lesser-known and a rare self-penned song, is sung in Terry's cracked and emotion-packed voice. Regret doesn't come in a more chilling performance.
Terry also handles lead vocals on Little Blossom—though credited to Hank Thompson, it is in fact a traditional song dating back decades. A heartbreaking tear-jerker of a dysfunctional family and the sad death of their little girl by her drunken and abusive father, Terry is in his element, using his restrained, Stanleyesque voice to full effect. He sounds like a celestial old-time folk singer at the bottom of a silo filled with doom and gloom … in a nightmare dream, of course. Little White Church, is a much more cheerful song, both in lyrics and sound. Terry offers a light, easy lead vocal as he sings about the nostalgia inherent in knowing there's still the familiar rural community at home, even when he's hundreds of miles away. An ideal example of bluegrass at its best, flush with comfort and a caress, the bright tune takes an infectious folk gospel groove, celebrating joyously with bright guitar, fiddle and mandolin interplay.
When the pair wail in harmony on John Deere Tractor, they bring back echoes of an old-timey brother duet. The song reaches out and tugs on the listener's heartstrings enhanced by the haunting fiddle and Dobro accompaniment. They also offer a couple of instrumentals, Doc Watson's Peartree and the traditional Frosty Morn, which allows both of them to demonstrate their guitar skills. There's nothing better than good bluegrass lead guitar, like Tony Rice, Bryan Sutton, Lester Flatt and so many more. It seems modern groups are getting away from lead guitar and focusing on mandolin and fiddle mostly, so it's somewhat refreshing to hear the guitar so prominent without becoming too flashy.
November 2022