Barry Abernathy - Barry Abernathy & Friends
Billy Blue Records
****1/2
Most bluegrass followers will know Barry Abernathy as the banjo player with Doyle Lawson, IIIrd Tyme Out, Mountain Heart and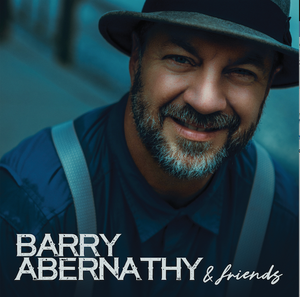 more recently the co-founder of supergroup Appalachian Road Show. A few years ago, having departed Mountain Heart, he was due to have a serious operation on his neck. The doctors warned him that it could cause damage to his vocal cords. That warning led to him deciding to record an album that turned the spotlight on his vocals rather than his banjo picking. As he began recording, Barry and co-producer Jim Van Cleve, invited fellow singers and musicians to participate. Over the next four years, as the sessions proceeded between other commitments, a gaggle of guest players and vocalists and a setlist buoyed by traditional tunes, ensured that this would be a once-in-a-lifetime spectacular album. The evidence is obvious by virtue of some solid performances, each flush with vitality and versatility. The mouth-watering core-band comprises Sam Bush, Bryan Sutton, Rob Ickes, Doyle Lawson, Ron Stewart, Jason Moore and Jim Van Cleve. Among the guest vocalists you'll hear Vince Gill, Rhonda Vincent, Shawn Lane, Dan Tyminski, Josh Swift, Doyle Lawson, Jim Van Cleve and the late Steve Gulley with Barry handling lead vocals.
This is traditional bluegrass that bends the genre boundaries, blurring the lines between old-time, gospel, mountain music and old-school country. Of course, it takes more than simply emulating a certain style to create a sound that's singularly compelling. A lively revival of Birmingham Jail, with Vince Gill adding tenor harmonies, opens the proverbial door to that possibility, but, in fact, there's not a single song amongst this set that doesn't ring with exuberance or enthusiasm. It's execution not origin that matters most here. This album is a very fine vintage indeed and, like any fine wine, one that's well worth savoring. Highlights abound.
From the epic statement-of-purpose-of-sorts Back in 29, to the foot-stompin' trad-centric Lost John to Julie Miller's pleading gospel song Fall On the Rock and the epic Paul Kennerley western yarn A Train Robbery, Barry and friends deliver a dizzying array of tempo changes and impressive dynamic shifts throughout. There's a touch of humour with Malcolm Holcomb's One Leg At A Time, which you'd swear must surely be an old-time classic from pre-war days. Steve Gulley adds vocal harmonies whilst the band members each take a short break. Gulley is also featured on the bleak Midnight And Lonesome.  Jim Van Cleve's mournful fiddle, Sam Bush's heartfelt mandolin picking, the pluck of Ron Stewart's banjo, and Rob Ickes bluesy resonator guitar strokes keep the music on an even keel. Indeed, there are no slackers to be found among this bunch. Likewise, the forlorn lament, You'll Never Again Be Mine, with high harmonies by Rhonda Vincent, effectively conveys the Stanley Brothers' high lonesome sound through a convergence of humility and heartbreak. A familiar bluegrass story bidding good riddance to a bad love and seeking a new one. Barry sings Unwanted Love in his trademark aggressive style, with Dan Tyminski providing perfect vocal support.
For what is basically a studio band, this is a tightly integrated outfit that clearly works well in tandem with Barry Abernathy and his passionate vocals. The driving determination and intuitiveness suggests that this crack group of players doesn't simply offer homage but takes the form further through their own skilled musicianship. 
March 2021