Autumn Hollow - Throw The House (EP)
Self-released
***1/2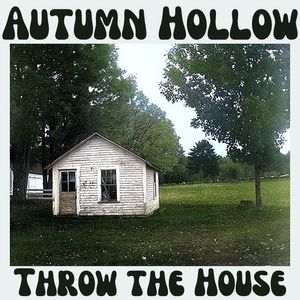 This five-piece band from south Boston make a welcome return with their first new recordings since 2013. Guided by lead vocalist, acoustic guitarist and main songwriter Brendan Murphy, on first hearing, the music appears to be generally of a forlorn variety, mostly low-key laments borne out of, but not directly dealing with the Pandemic. Murphy writes elegant folk-rock songs with airy, atmospheric spaces. Melodies so familiar, they feel like a warm embrace. He has a lovely, earnest voice, perfectly suited to these mainly acoustic meanderings, conjuring a grandiosity but with half the strain and twice as much grace. He is ably supported by band-mates Mike Burke (lead guitar, background vocals), Chuck Vath (bass, background vocals), James DeFilippo (piano, organ, keys) and Nick Campbell (drums).
There is a feeling of new beginnings, a re-emerging into the light following the darkness and uncertainty that has enveloped so many over the past few years running through this set of songs. Meantime/Between Time portrays their artistic vision for an alluring, gazey, psychedelic-bent sound and all-embracing tasteful aesthetics. Rather than worrying about what might have been, this centres around living in the moment. A delicate vibe that feels transported from another era, this is music for dancing alone in one's mind rather than with a companion, equal parts dream sequence and allegory. He brings a homespun sentiment to its fullest measure on Rooting For Laundry. The gentle, yet still jaunty song stirs nostalgia, optimism and innocence all in equal proportion. It is buoyed by compelling guitar lines, swirling organ and a powerful pop heft that recalls the glory of early Big Star, The Nerves, and others while retaining their own distinctive identity.
Guitars sparkle with a dampness in places before the heat-rippled organ takes hold on Si Viene Si Va (Italian for 'it comes and goes) a delightful little ballad that showcases Murphy's dominant vocal ability. It is a hypnotic, laidback ode to devotion that reminds us to hang on to the ones who'll stand by us no matter what.
I find their optimistic, lackadaisical folk-rock to be something of a balm … these all too brief three tracks whetted my appetite for more of the same … much, much more.
June 2022