Angela Easterling - Witness
Self-released
****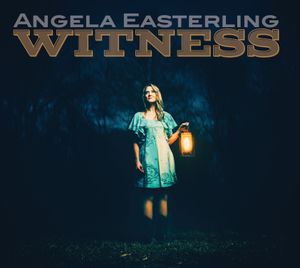 With her sixth album Angela Easterling continues to make very special albums that gleam and resonate in their own unique way. Beautiful, sprawling gems, her songs shimmer through styles and showcase that rare quality of intelligent, emotional music. Delicately and attentively crafted, each song feels like an extension of the crystalline, country-folk-fueled leaf that she turns as she soars on wings of resilience and redemption, but not before walking through the valley of the shadows of pain and abuse and desolate loneliness. Her lyrics weave the personal and political into highly relatable songs that seem designed to strike an emotional chord while tapping into the zeitgeist. She focuses on self-exploration, love, family, parenthood, and the wretched state of the world with unflinching clarity: a masterclass on well-trodden themes. Songs that not only capture the jagged despair growing out of social and cultural division but also evoke the resilience of the human spirit. Angela's luminous voice mirrors the rich, emotional quotient of her themes, breathing life into songs that balance contemplative compassion with a righteous fury. Ultimately, WITNESS is a record extolling the need for honesty, empathy, and a call to change society's most destructive urges.
Sensitively produced by hubby Brandon Turner (acoustic, electric, lap steel, and resonator guitar, bass, piano, organ, banjo, harmony vocals) and immaculately supported by Don McGraw (bass), Jeff Hook and Scott Stinson (drums, percussion), Ted Lucktenberg (mandolin, cello), David Rice (fiddle) and Fayssoux Starling McLean and Ian Guthrie (harmony vocals), this is an album that's both entertaining to listen to and enlightening to think about. Opener California has the sinking feeling of being taken for granted by an ex-lover, then unfolds into its theme of unfulfilled dreams and an aching for those wild and free West Coast days.  The rhythmic title tune leaves it open to interpret it as an ode to either a message to a former abusive partner or doubts about her religious beliefs, and that is exactly what makes her such a compelling singer and songwriter. She goes deep with Baby Bird, which seems at first to be about allowing a child to fly the nest, until the very last verse, with the revelation of a still-birth. The effective use of acoustic guitar to anchor her plaintive vocals feels like a love letter to her unborn daughter.
The most harrowing offering is her take on Woody Guthrie's Deportee (Plane Wreck At Los Gatos), her soul bleeding as she wrings more drops of agony from the tree of woe that both Pete Seeger and the Kingston Trio sang about in the early 1960s. Based on a 1948 plane crash in which 28 migrant Mexican farm workers and four Americans died on a flight back to Mexico, it remains as relevant today as it did 60 years ago, with so-called illegal migrants having become a worldwide tragedy. That is the only outside song, and it speaks volumes of Angela's talents as a writer, that each and every one of her own creations match that enduring classic. Halfway Down finds Angela honing her lyrics into a weapon as she tackles America's passion for guns and the endless mass shootings. To a catchy country arrangement, she floats above it like a butterfly as she sings in the key of hope. Have You Seen My Friend, a song of undying-love, and acceptance, is powerful and honest, Keep Your Head Down, Johnny is a thigh-slapping, hoe-down that lightens what could otherwise be a heavy track, as the protagonist lays out her tale of being a child bride to a violent and abusive mountain man and her own savage revenge. She closes the album with the heartfelt Grow Old, a simple ode to the power of one person to love and comfort another. Filled with songs for healing, dreaming, and seizing a moment and making it better, WITNESS speaks to its era—and Angela Easterling's enduring strengths—eloquently.
October 2022