Angela Easterling - Common Law Wife
De L'est Music DLM0215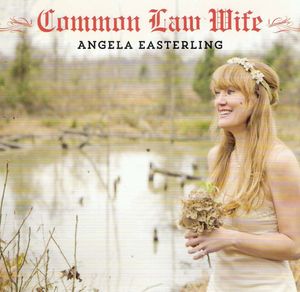 I've been listening to Angela Easterling's music for a few years now, and I have to say that this, her fifth album, is unquestionably her most mature and considered release to date. COMMON LAW WIFE is an album rich in reasoned clarity and insightful observance of the world in which we currently live. A majestic and atmospheric collection of her most intimate songwriting, the album showcases Angela's skills as a master storyteller and lyricist, delving into very personal and sometimes melancholy subject matter, swathed in melodic hues and moods ranging from the bright to the very, very dark. An incredible stylist, with a tremendous voice and character in the way she delivers her music. Angela's stripped sound and vocal vulnerability evoke a stark intimacy on this impressive offering, and despite her songs being highly personal, the emotions are universal.
Spinning folk, country, bluegrass and Americana into one delightful listening experience, she eloquently and emotionally looks deeply into the highly relatable quandary of: 'If I knew then what I know now.' Never more so than on the buoyant
I'm Alright
. With a softly plucked banjo, ethereal fiddle and a jaunty rhythm, it's daring and dreamy; the place where country and folk meet to dance, smile and raise a frothy brew in celebration. In similar style is
Table Rock
, a beautiful ode to restless spirits and rambling hearts. The theme of how to make it through the darkest night informs several of the other compositions on the album, including
Aching Heart, The Mountain
and
The Flame
, songs about emotional vulnerability, but always shot through with glimpses of hope and salvation.
Just as compelling is
Hammer
, a song inspired by the South Carolina farm that has been in her family since 1791. The triumphs and tribulations endured are lyrically painted with chiaroscuro imagery throughout the composition as a contrast between light and dark and balanced by the tranquil mid-tempo arrangement that colours the canvas with hope. Again she delves back into real life for the heart-wrenching
Isaac Woodward's Eyes
. Based on the true story of a decorated black veteran soldier returned from the Second World War to a Deep South of America still embroiled with racial bigotry, this powerful tale is gripping. Even when she's singing about murder, she's charming, as on the guitar and mandolin-driven Southern Gothic
Arkansas Murder Ballad
.
These individual songs are gems that reveal more and more beauty as you approach them from different angles, but their combined effect is greater.
Her haunting singing voice, which twinges and aches throughout, infuses the tales with emotion that is at once unnerving and soothing. You don't need to take my word for it; you should seek out this album and hear for yourself what a special and uncommonly good singer-songwriter Ms Angela Easterling is. 
www.angelaeasterling.com