Self-released
****
Nashville newcomer Amanda Cooksey was born and raised in Orlando, Florida, where she sang, took piano lessons and wrote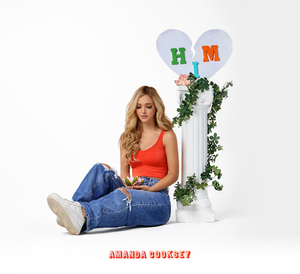 songs. She attended the University of Florida and Nashville's Belmont University studying music, creativity and business, gaining multiple degrees. Following graduation, she worked part-time in A&R and PR at Demolition Music, where she managed their catalogue whilst pursuing her songwriting and singing career. Over the past few years she's released several singles and music videos as she's built a sizeable fan base through social media. This debut seven-track mini-album is a deeply personal and revealing look into Amanda's life, all presented through the lens of gorgeous instrumentation and vocal melodies. With detailed and perfectly calibrated songwriting she recounts the different stages of a break-up that she experienced a couple of years ago. Filled with potent, personal storytelling, this comes across as a stunningly empathetic study of human frailties, yet it's never maudlin or depressive.  Youthful, yet with a mystifying, innate wisdom, Amanda masterfully harnesses the excruciating experience of growing up, in all its humiliation and intensity. Often, this album creates a juxtaposition between breathless, Taylor Swift-esque melodies and a much more sobering lyrical message … a colorful, exuberant and life-affirming work.
The slow hand clapping What's His Name, is dripping with attitude. It brings forth this intensity that is missing in a lot of music today, but it also has this slinky groove throughout. There's a casual 1950s-vibe to In Denial, proving she has countless ways to write of her significant other walking out the door, leaving her wondering what the hell happened to what's left of her heart as she settles down on a beach in total denial. Chicago boasts a hook that's absolutely infectious, while she underscores its lovelorn tale with a gentle and supple sway to traverse a well-worn musical terrain and craft a nice little earworm of a tune. Wish You Were Here is the proverbial musical holiday postcard to the ex who has moved on and couldn't give a damn about the heartbreak he's created. Listening to the song feels akin to stepping into some fuzzy, almost-forgotten bad memory from many summers ago.
There's something about Amanda's voice that tugs on your heartstrings, especially when she kicks a song off by describing a birthday gift of a pair of Nikes that didn't do its job in Nike. Her heart-rending vocal evokes the singer's yearning and palpable confusion about a love gone cold. The sexy title-track describes an all-consuming love as if it weren't so different from a black hole. She shows off a strong voice and a stronger disposition as she delivers understated gravitas and grit as she closes the album defiantly with 'that's the last thing I have to say about him' on a track that is straight ahead, smart pop. Pure and simple. Listening to this break-up album is a triumph, a consistently enjoyable listening experience courtesy of a dynamic, talented singer-songwriter. You'll love it.
December 2021