Amanda Cook - Narrowing The Gap
Mountain Fever Records
****
From her early beginnings with High Cotton, the band she formed with her father in 2007, Amanda Cook has emerged as one of the most dynamic female bluegrass vocalists and band-leaders of today. Having developed a regional following in Florida, two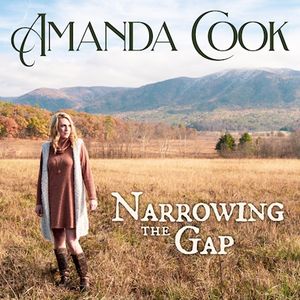 years ago she moved to the Blue Ridge Mountains of Virginia in order to be more central for nationwide touring. All four members of her acclaimed Amanda Cook Band—Carolyne VanLierop-Boone (banjo), Aaron 'Frosty' Foster (guitar), George Mason (fiddle) and Josh Faul (bass)—moved with their families with Amanda. For this album Jeff Partin guests on Dobro and co-producer Aaron Ramsey plays mandolin, bass, guitar and adds harmony vocals on a couple of tracks. Since the album was recorded early last year, Carolyne's husband, Troy Boone, has joined the band on mandolin and resophonic guitar, following several years with Sideline. Amanda, who shares production duties, is a versatile vocalist who shines on fast-tempo barn burners and can deliver the heart-rending ache of a ballad of lost love.
Carolyne's nimble banjo playing sets up the frantic opener Get On Board. With a series of train metaphors as an expression of moving on in life, George Mason's fiddle flies along the track with Amanda's vocal keeping up apace. Another train song follows, a tragic romance co-written by Amanda and Thomm Jutz. Lonesome Leaving Train is impeccably crafted, each word hitting like a sad realisation that the young bride is on a journey of heartbreak. The toe-tapping melody and superb musical support from her band members help to make this a memorable track. Carolyne and husband Troy co-wrote West Virginia Coal, another tragic song dressed up in a rhythmic melody. The tale of a coal-mining father who sets off to work, never to return is given a banjo-led arrangement as the story unfolds of a close-knit family coming to terms with their loss. Carolyne is also at the forefront of Light In this World, with some fine banjo work on a religious song that she wrote. Amanda's earnest vocal on this upbeat gospel exhortation, reassures with a gritty soul, that her faith remains all consuming.
The poignant It Ain't Over Till It's Over illustrates Amanda's expert way with a song. Her phrasing is impeccable as she gets inside the song, turns it inside and out and makes it her very own. Bathed in a hushed sense of wonder, Amanda's voice is as evocative as ever on Curtains. Suffused with melancholy, nostalgia and regret, its soft, gentle guitars, fiddle and harmonies feel both heavy and weightless, the gentle, lilting melody matches well with Amanda's plaintive vocal. Tim O'Brien's When You Come Back Down opens sparely before blossoming into an uplifting anthem that digs deep into themes of support and loss and love and hope. Each credulous note is sung with authentic appeal while George Mason's fiddle paints a practically tangible backdrop of pure unadulterated devotion. She closes this exceptionally well-executed album with Donna Hughes' Where Are You. True to form, it's a hard-driving bluegrass number, with a vintage vibe. NARROWING THE GAP is an outstanding example of the reverence Amanda Cook retains for the roots of bluegrass music, as well as the breath-taking sounds created by her talented band.
March 2021