Evangeline Records
****1/2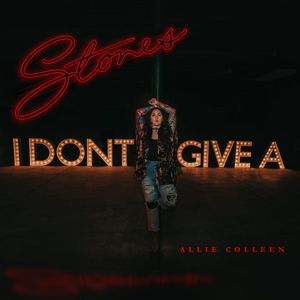 When you have a parent who is a famous singer and entertainer, pursuing a showbiz career can be quite a risk. Oklahoma-born Allie Colleen is determined to make her mark in music on her own terms, without any financial support, interference or publicity connection to her superstar father. STONES is an adventurous, eclectic, cohesive and bold debut from an artist who will undoubtedly continue to refine, define and expand her palette. One of the most powerfully honest and uncompromising albums I've heard in a while, both in the way this young woman confronts others who have mistreated her or with whom she's parted ways, but even more profoundly in how she confronts herself, she has created something that is undeniably relatable. Whether through shared experience or a basic recognition of the feelings on show, there is a sincere universality in her music. She shows herself to be a powerful storyteller, a young artist capable of applying an enormous impact with a selection of co-written songs that are mainly deeply personal.
A strong, determined personality drives Allie Colleen. Ain't The Only Hell (My Momma Raised), an earlier single—not included on the album—is a good pointer to her approach to life. On an album full of songs dedicated to making sense of yourself and your surroundings, the title song provides an eloquent and appropriate opener. Having grown-up in a privileged family, Allie has been the victim of put-downs and bullying. She confronts this in a no-nonsense fashion with a swaggering delivery and the declaration that despite all the stones 'I look good in black and blue.' This track bodes well for Allie in that this initial offering provides such a powerful first impression. And she doesn't disappoint. Particularly on the slower, solemn standouts like Wildflower and As Good As It Gets. The latter is a desperate portraiture of how an exciting romance has now grown into an ordinary marriage, lacking all the excitement and first flush of love as the wife lays there in the night yearning for passion and affection. Despite its apparent fragility on first listen, Wildflower contains all of the intensity that Allie refuses to shy away from, as she confronts head-on the doubts so many go through of not being the perfectly shaped beauty portrayed across all media platforms.
She heads into her Oklahoma roots with Don't Give Your Heart To A Cowboy, as the studio band hits some down-home country notes, and she offers sage advice as she looks forward to a future when she is finally over a lost love. There's a catchy country rhythm with swirling steel guitar to the upbeat Vagabond Angels, though again there's a wistful sadness running through the escapism lyrics. With an acoustic opening, Only Oklahoma is a quietly resounding declaration of self as unlike her grandmother, a promising country singer of the 1950s, Allie is determined to follow her muse, rather than settling for a comfortable family life back home. Musically, this track doesn't veer far from its straightforward acoustic centre, with a yearning for home whilst making her way in the big wide world.
As I listened to the plaintive Well Enough Alone, I realised that this could well be about her own parents' break-up. A slow, deeply personal tear-jerker, with a stripped-down arrangement, Allie fills the lyrics with emotion, and a bitter tear in her voice and the hope that can still exist in the most difficult times. The only outside song is the closing track, the sultry Pink Lemonade, co-written by trad country singer Norah Collins. This seductive song opens with a satisfyingly sexy beat as the lyric revolves around a sensual chorus and highlights her vocal versatility with its 'come-on' lilt that is so inviting. A fitting climax to an album that feels perfectly at ease and refreshingly ambitious. Oh, and by the way, if you hadn't worked it out, Allie's dad is Garth Brooks.
November 2021